Monthly Archives:
August 2018

Venables accounts for 6 touchdowns as Lions top Easley
By Bru Nimmons
Staff Reporter
bnimmons@thepccourier.com
EASLEY — Offense was the name of the game Friday night as the Daniel Lions went on the road to blow past county rival Easley, 54-28.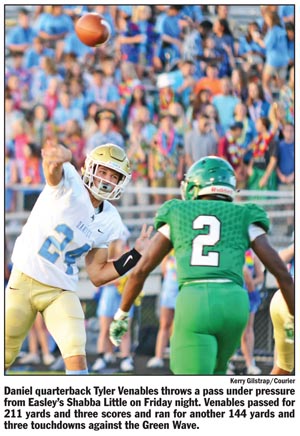 The Lions debuted a fast-paced new offense this season under coordinator Paige Wofford, and it has proven successful. Daniel put up 38 points in a Week 0 win over Liberty, and the 54 points against Easley were the most the team has scored in a game under third-year head coach Jeff Fruster.
"I challenged these kids on offense," Fruster said. "They responded tonight, and as long as they continue to respond to those challenges, we are going to have a really good season."
"This new offense is working," added junior quarterback Tyler Venables, who had the best night of his Daniel career under center against Easley. "But we can still be even better. We have some things to work on, and we will strive for perfection."
Venables was electric for the Lion offense, scoring six touchdowns and making plays all over the field. He finished the game with 211 passing yards and 144 rushing yards while splitting his touchdowns
You do not have permission to view this content
Subscribe Today or Login