Daily Archives:
11/20/2018
By Jason Evans
Staff Reporter
jevans@thepccourier.com
SUNSET — The newest passage of the Palmetto Trail is officially open in Pickens County.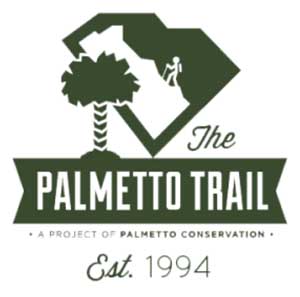 The Eastatoe passage of the trail begins at Dug Mountain Angler Access on the Eastatoe River and connects to Keowee-Toxaway State Park.
Officials gathered Friday morning to cut the ribbon on the new passage.
"I was so excited that Mother Nature decided to remind us what sunshine was," Palmetto Conservation Foundation executive director Natalie Britt said. "This is really not a bad Friday morning in the office."
The foundation's "passion and vision is to build the statewide mountains-to-sea Palmetto Trail," she said.
The trail not only showcases public lands, it tells the story of South Carolina "in such an incredible way to our visitors, to our citizens," Britt said.
The passage is part of the Jocassee Gorges, which has been recognized by National Geographic for both its unspoiled nature and its environmental diversity.
"What a privilege for us as South Carolinians to have all of this environmental diversity here," Britt said. "We know that generations to
come will enjoy this beautiful place. This trail and the bridges that you will see will be here for future generations to learn about conservation, to learn about our natural resources and to really understand how important it is to really create the next generation of conservation-minded youth."
Creating the trail is "all about partnerships," she said. The foundation's partners include Duke Energy, Naturaland Trust, the S.C. Department of Natural Resources and the S.C. Department of Parks, Recreation and Tourism.
"We could not do this without DNR," Britt said. "We are continuously grateful. Our focus is connecting as many of our state parks as we can."
PRT's recreational trails program is another funding partner, she said.
Duke Energy awarded the foundation $100,000 toward the trail through its water resources grant program, Duke Energy South Carolina president Kodwo Ghartey-Tagoe said.
"None of this happens without corporate philanthropy," Britt said. "Duke has been committed to trails for a really long time and committed to this project."
Ghartey-Tagoe is a newly elected member of the PCF board.
"Duke Energy, we've been interested in the environment since our inception," Ghartey-Tagoe said. "We've been involved with rivers and waterways since our inception."
The Eastatoe passage provides more angler access, another goal of the Palmetto Trail, Britt said.
"That's great for us and for DNR," she said.
Jocassee Gorges project manager Mark Hall said one of the most important emphases of the long-range plan for the Gorges "is providing public access to the beautiful resources like this river."
Adin Fell is the S.C. Department of Parks, Recreation and Tourism's regional chief for the Mountain Region.
"We're extremely excited to work with all these partners, whether it's through trails or other aspects of our job," Fell said.
The Palmetto Trail gives people "more opportunities to get out into nature, especially the Mountain Region of South Carolina State Parks," he said.
"The mountain's an extremely limited resource here in South Carolina," Fell said.
Britt said the next Palmetto Trail opening will be the section that connects Oconee State Park to Stumphouse Mountain Bike Park.