Search Results for:
country santa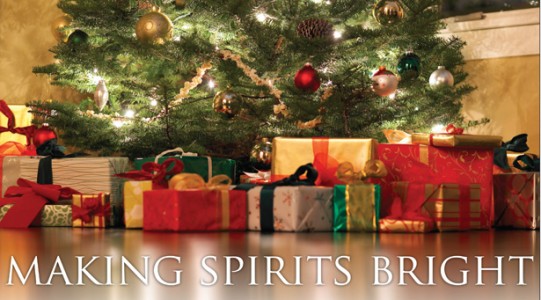 By Ben Robinson
Staff Reporter
brobinson@thepccourier.com
PICKENS — With Christmas Day just around the corner, Pumpkintown's Buddy Cox is pretty much exhausted.
Still, he knows several days of work remain to be done.
Each year, Cox becomes Country Santa, providing Christmas presents for children who would likely have to do without if not for his efforts.
He began his mission decades ago. Cox grew up in a poor home, and the family had to depend on the kindness of a neighborhood church for Christmas presents each year. He never forgot the joy he felt receiving presents from the church members each year.
"We didn't receive much, but it was all we had," he said. "As I got older and figured out how my mother could somehow magically come up with presents despite our family not having anything, I realized that those people actually cared for me. Of course we received help throughout the year — food and such — but I began to see how tragic it would be for a child to wake up Christmas morning and have nothing under the tree.
"It's not so much the cost of the gift as the love that goes into getting it."
So Cox grew up and began his own business. And he started buying Christmas presents for families who live near him who would not be able to buy gifts for their kids. Before long, some neighbors heard about his efforts and wanted to contribute.
And Cox's effort grew. And kept growing.
Before long, Country Santa's list had grown from eight families to hundreds across the Upstate and beyond.

"I just can't sleep at night knowing that some kid may wake up Christmas morning and find nothing under the tree," Cox said. "And it's not always their parents' fault. Times are tough, and people may have to choose between buying their child a Christmas present and paying for their electricity."
Cox gives Upstate parents another option.
"We're just basically filling in where the local church used to," Cox said. "Some of our churches are struggling, too."
And people seem to appreciate his efforts.
"I can't count the times that we've had a parent show up here (at Cox's Pumpkintown home) and say, 'You helped me last year, so now I want to help others through you.'" Cox said. "Some of our most dedicated elves are either folks we have helped or kin to somebody we have helped."
Elves begin to show up Thanksgiving Day to help sort and pack the toys, Cox said.
"School groups, church groups, civic groups and scout groups all come up and help us pack toys," he said. "To tell the truth, we would be lost without our volunteers."
Toys are left at drop points scattered across the Upstate.
"Folks are very generous, because they know where our gifts are going," Cox said. "They're not going to find these gifts in a dumpster somewhere or for sale at the jockey lot."
His volunteers include State Rep. Davey Hiott, who visited Country Santa on Sunday.
"When he gets up here, Davey is just one big kid," Cox said. "But he comes with a Sunday school class he apparently teaches. What better place to show kids the true meaning of Christmas?"
This year, Cox's donations are going well.
"We never seem to have too much," Cox said. "We always want enough to start on next year. Right now, we could use gifts for older kids. People want to buy the stuffed animals for the little kids, but if we run out of anything, it's usually stuff for the older kids."
Cox said the gifts he has now for teenagers won't last long.
After more than 30 years as Country Santa, Cox is philosophical.
"Overall I feel really blessed," Cox said. "Blessed to be able to help so many people, blessed by the many people this has put in my life, blessed that we are still able to do this after so many years. I dream of the day when Country Santa will no longer be necessary. But the need is still out there, and Country Santa seems to keep ministering both to those who give and those who receive."
Each bag of toys carries the message, "Merry Christmas from Jesus and Country Santa."