Flame volleyball off to hot start
PICKENS — The Pickens High School Blue Flame volleyball program has been a traditional power in the state.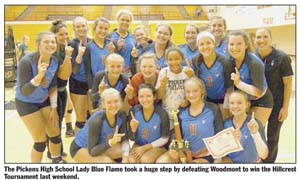 Led by first-year coach Rikki Owens, the Lady Flame are looking to continue that legacy of dominance.
In the season opener on Aug. 30, the Flame defeated the Seneca Bobcats 25-7, 25-13, 25-6, to take the match in straight sets.
Next they hit the road, as they traveled to T.L. Hanna to square off with the
You do not have permission to view this content
Subscribe Today or Login