Liberty has no answer for tough Pickens run game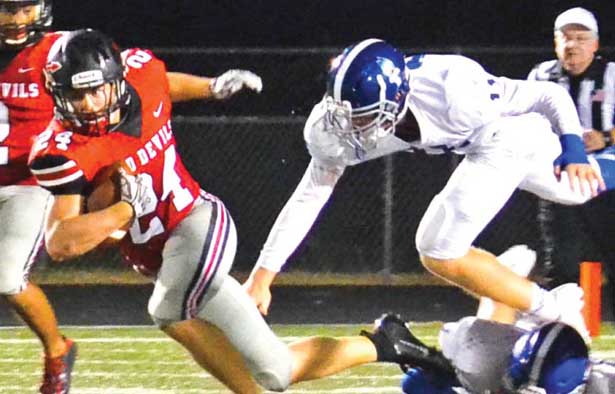 By Clay Counts
Special to The Courier
claycounts21@yahoo.com
LIBERTY — Riding high after a big win over Berea, the Liberty Red Devils hosted county rival Pickens on Friday night hoping to keep the momentum.
But licking their wounds after a tough loss the Pendleton the previous week, the Blue
Flame used their steady, hard-nosed power run game to chip away at Liberty in an 18-0 win.
After receiving the opening kick, Pickens came out of the gate clicking on all cylinders, beginning with an 18-play drive that spanned 63 yards and ate nearly 10 minutes off the clock. The drive above all exemplified the no-frills, fight-for-every-inch gameplay the Red Devils would have to struggle against on the night. Pickens converted on two fourth downs and had only one play that went for more than nine yards on the opening drive.
The Red Devil defense ultimately prevailed on the possession, though, after stalling the Blue Flame offense at the 16-yard line and forcing a missed field goal.
Liberty's bend-but-don't-break defensive strategy caused Pickens to leave a lot of points on the field and proved successful in keeping the Red Devils in the fight.
Another highlight of the opening half for Liberty was an impressive goal line stand, with a touchdown-saving tackle by senior linebacker Jack Brissey forcing a turnover on downs at the Red Devils' 1-yard line.
The ensuing offensive drive held some promise, but was ultimately driven backward, ending in a Red Devil safety to give Pickens a 2-0 lead midway through the second quarter.
The Blue Flame offense stretched its lead to 5-0 at halftime with a 45-yard Collier
You do not have permission to view this content
Subscribe Today or Login