More than a game
Easley coach faces son on the diamond
ANDERSON — The Easley High School baseball team opened its Region I-5A schedule on Tuesday evening on the road at Westside,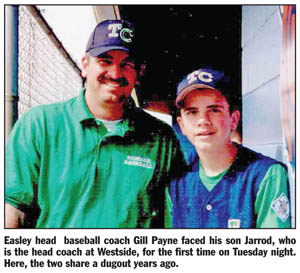 but for the head coaches of both teams, it was much more than a game.
Father and son faced off in opposite dugouts for the first time in more than 20 years, as two first-year South Carolina head coaches did battle with Gill Payne leading the Green Wave and his son, Jarrod Payne, at the helm of the Rams.
Although the results were unavailable at press time Tuesday, both Paynes reflected on the significance of the game ahead of time.
"Honestly, this is something that I never imagined would happen," said Gill Payne, whose coaching career includes experience at the
You do not have permission to view this content
Subscribe Today or Login