Nailbiter goes Lions' way with late goal line stand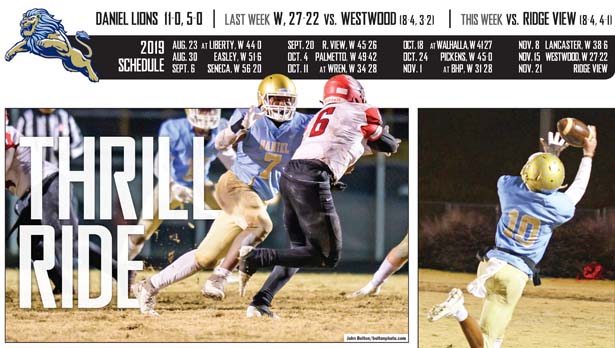 By Bru Nimmons
Staff Reporter
bnimmons@thepccourier.com
CENTRAL — As the clock wound down on Friday night, the Daniel Lions were on the verge of seeing everything they

had worked for all season collapse against the Westwood Redhawks.

Down 27-22, the Redhawks drove all the way to the Lions' 4-yard line in the waning minutes of the second-round playoff showdown at Singleton Field. Coming off a 70-52 win over Eastside, the Redhawks were considered one of the best offensive teams in Class 4A.
Despite the odds, the Daniel defense held its ground from there, with Jared Kirksey getting a huge tackle for loss on fourth and goal from the 2-yard line to secure the victory and keep the Lions' unbeaten season alive for another week.
"My cup runneth over," Daniel coach Jeff Fruster said following the win. "We challenge these kids week in and week out and they keep coming through, no matter the adversity. Backs against the wall, they knew the game was going to come down to them, and they did a heck of a job."
Kirksey had trouble finding his footing early in the night, slipping up multiple times as he came around the edge on adverse field conditions. However, that didn't stop him and the Daniel defense from shutting out Westwood in the
You do not have permission to view this content
Subscribe Today or Login