Plaque placed to honor Pickens legend Anthony
By Bru Nimmons
Staff Reporter
bnimmons@thepccourier.com
PICKENS — Pickens High School added the finishing touches to the Peggy Harden Anthony Gymnasium after placing a bronze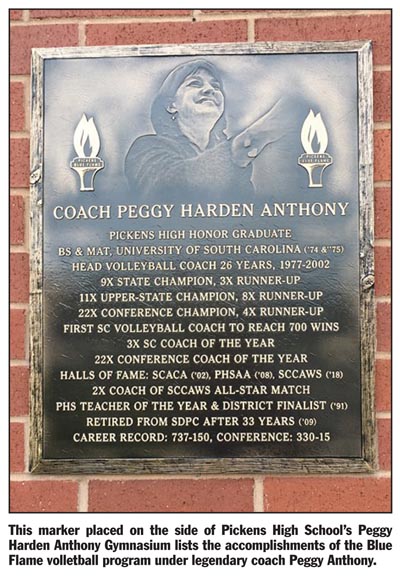 plaque honoring the legendary coach outside the gym recently.
The plaque, which was made possible by a donation from Dillard Funeral Home, lists many of the coach's incredible accomplishments over her career at Pickens.
"I'm so glad we could honor Mrs. Peggy," Dillard employee C.B. Dunson said. "My wife won two state titles playing for her, and we're just some of the many people she has impacted in this community.
"It is such an honor to share her legacy and show how much she means to Pickens."
In her 26-year career at Pickens, Anthony brought home nine state volleyball championships, while coaching 28 All-State players, including
You do not have permission to view this content
Subscribe Today or Login