Southern Wesleyan announces Strike as Ed.D. coordinator
CENTRAL — Southern Wesleyan University recently hired Dr. Kimberly T. Strike as itscoordinator of doctoral studies.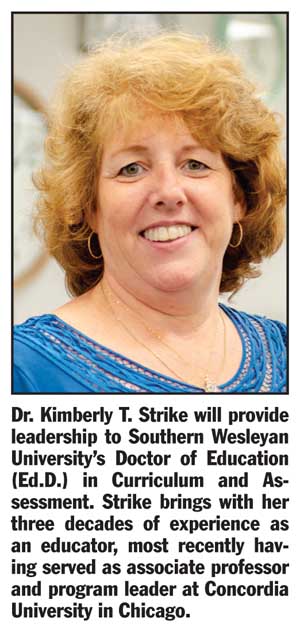 In her new role, Strike will provide leadership to Southern Wesleyan's Doctor of Education (Ed.D.) in Curriculum and Assessment program.
Strike brings three decades of experience as an educator into her new role. Most recently, she has served as associate professor and program leader at Concordia University in Chicago. Strike's experience has been shared throughout the corridor of Chicago to Milwaukee, including a state appointment to assist with a turn-around district in Illinois, work with voucher schools in Milwaukee and appointment to turn around a UW charter school in Wisconsin.
Her research has been published in several scholarly publications on topics that include mentoring, performance and accountability. Strike has also been a presenter at several national and international conferences. She recently did a presentation for Carnegie Summit in San Francisco, "Identifying and Growing Internal Leaders: A
You do not have permission to view this content
Subscribe Today or Login