Tri-County Tech officials name Advisory Committee of the Year
UPSTATE — The Medical Laboratory Technology (MLT) advisory committee's devotion to student success and its attention to shaping the curriculum to meet workforce needs earned it Tri-County Technical College's Advisory Committee of the Year award.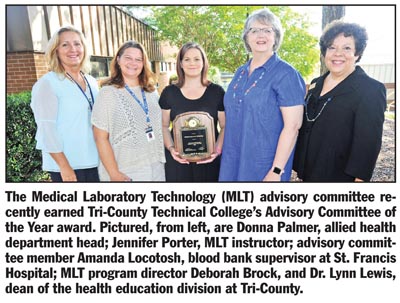 The committee was recognized for its achievements this year at the college's fall convocation. Committee members Amanda Locotosh, blood bank supervisor at Saint Francis Hospital, Dr. Vincent Gallicchio, professor of Biological Sciences, Microbiology and Public Health Sciences Director, Clemson University International Program in Global Health, and MLT program director Deborah Brock accepted the award.
One of the committee's objectives this year was to ensure and provide
You do not have permission to view this content
Subscribe Today or Login