Triple Crown
Tigers wrap up third straight conference title, playoff berth
By Eric Sprott
Courtesy The Journal
eric@upstatetoday.com
CHARLOTTE, N.C. — The goal for the Clemson football team Saturday night was to leave no doubt who was the best team in the Atlantic Coast Conference.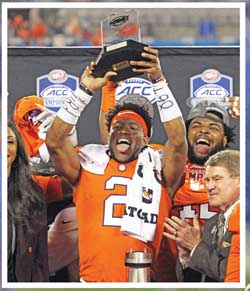 Consider it mission accomplished.
The top-ranked Tigers scored on their first three possessions, turned in a dominating defensive performance and won the turnover battle, as they smashed Miami by a final score of 38-3 for their third consecutive conference title.
After winning three straight conference titles for the first time in 29 years, Clemson (12-1, 7-1) will also once again enter the College Football Playoff as the top overall seed, as the Tigers will take
You do not have permission to view this content
Subscribe Today or Login