Venables, Lions explode for big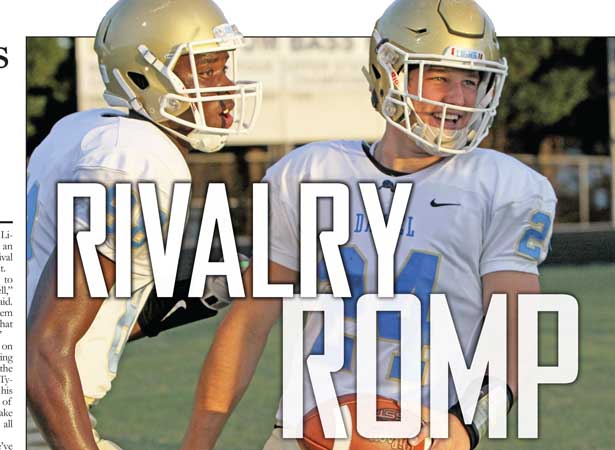 By Bru Nimmons
Staff Reporter
bnimmons@thepccourier.com
SENECA — The Daniel Lions scored early and often in an explosive 51-14 win over the rival Seneca Bobcats on Friday night.
"I challenged these kids to get off the bus and play well," Daniel coach Jeff Fruster said. "All summer we challenged them to get off to good starts, and that is exactly what we did tonight."
The Lion offense jumped on Seneca from the get-go, scoring 38 points in the first half, with the star being junior quarterback Tyler Venables. Venables scored his team's first four touchdowns of the game on the ground to make his impressive season thus far all the more exceptional.
"It was very fun, (and) we've got a lot momentum in our hands," Venables said. "I didn't do great in the passing game tonight, but the offensive line did a great job of giving me some gaps to run through."
The Lions' new offensive staff is hitting its groove right now and putting up numbers that fans haven't seen in years. In fact, the Lions' 50-plus points in each of the last two games marks the first time Daniel has scored 50-plus in consecutive weeks since their 2013 state runner-up season.
"The kids believe in them," Fruster said of his new offensive staff, led by coordinator Page Wofford. "This staff has shown they have a lot of prowess the last couple of weeks. But we knew what we were getting when we hired them. It's just good to see our offense pick up some momentum."
The defense was also stellar on the night, as the Lions allowed almost nothing through the air, with Seneca only getting 36 passing yards and throwing three interceptions. The Seneca run game was also held in check outside a 74-yard scoring burst by Bobcat running back Jeremiah Mackey.
"It's like I said before the game, you can't stop Mackey," Fruster said. "The best you can hope for is to contain him, and I thought we did a good job of that."
Daniel received the opening kickoff and Venables started his impressive game with two
You do not have permission to view this content
Subscribe Today or Login