Buddy and Cisco's Bistro set to open Saturday in Pickens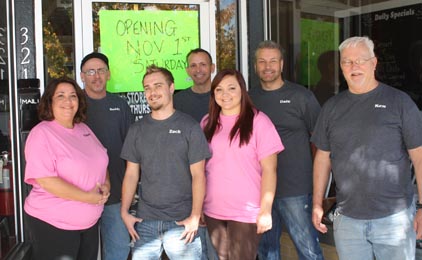 The staff of Buddy and Cisco's Bistro invites the public to its grand opening on Saturday.
PICKENS — Buddy and Cisco's Bistro will open Saturday, Nov. 1, at 321 E. Main St. in downtown Pickens.
The bistro will be focusing on salads, soups, sandwiches and desserts prepared by chef Buddy House. House and business partner Ken Traylor have been in business together for 10 years and had a desire for a sit-down, casual food experience that offered specialty menu items.
The bistro will feature free delivery in the downtown area, natural, gluten- and preservative-free meats that are sliced to order, catering services and a party room. Future plans include the opening of an old-fashioned ice cream parlor in the back portion of the restaurant in March 2015, which will feature a turn-of-the-century theme and style.
"Pickens is very excited to welcome Buddy and Cisco's Bistro into our downtown," said Allison Fowler, executive director of the Pickens Revitalization Association. "We are thrilled to have a new business that will be a great asset to our community, especially one with great food."
The bistro will be open Monday to Thursday from 10:30 a.m. to 7 p.m., Friday and Saturday from 10:30 a.m. to 9 p.m. and Sunday from 10:30 a.m. to 3 p.m.
For more information, call (864) 553-9424.