Monthly Archives:
May 2018
Kentwool founded in 1843
PICKENS — As Pickens County celebrates its sesquicentennial this year, a local textile company has reached an even bigger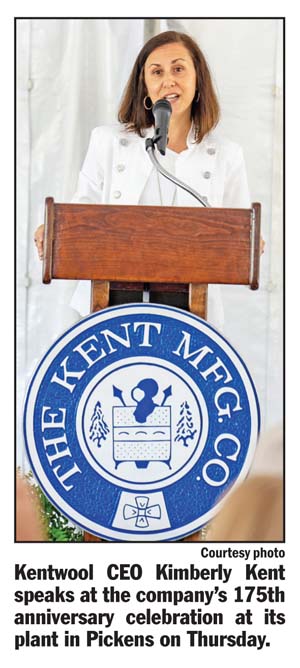 milestone.
Kentwool hosted a gathering in honor of the company's 175th anniversary last week.
Thomas Kent founded the company in Philadelphia in 1843. In 1954, operations moved to Pickens. Offices in Greenville soon followed. All Kentwool products are made in the United States.
"It's a time to recognize a rare achievement and the exceptional people whose work allowed us to reach it," CEO Kimberly Kent said at Thursday's celebration. "It is a joy to look out at the Kent family, the Kentwool family of employees and the close circle of community leaders, industry partners, elected officials and
You do not have permission to view this content
Subscribe Today or Login