Category Archives:
Obituaries

KATHRYN EDDINGS JOHNSON
STATESVILLE, N.C. — Kathryn Eddings Johnson (Kathy), 94, formerly of Statesville, passed away peacefully on June 11, 2022 at Atrium Pineville Hospital in Charlotte.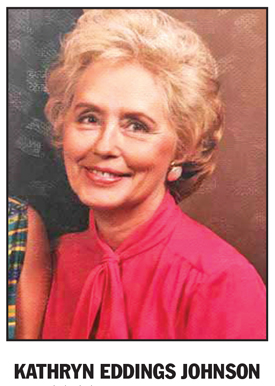 Born in Pickens on Sept. 13, 1927, she was a daughter of the late Thomas Bates Eddings and Edna Gravely Eddings. She was a member of First Baptist Church of Statesville and spent much of her early career as a church secretary. She also worked at the U.S. Geological Survey in Raleigh and Hunter Realty and Boan Building in Statesville.
In addition to her parents, she was preceded in death by her husband, the late Rev. Leath C. Johnson.
Survivors include a son, Rick Johnson and his wife, Nunthany; a daughter, Lisa J. Morgan and her husband, Donald; along with two grandchildren, Chase Morgan (Christina) and Conner Morgan. Several nieces and nephews and grand-dogs also survive.
Kathy was a devoted wife and mother. She was selfless, kind and accepting of everyone around her.
Services celebrating Kathy's life were conducted on June 18 at Nicholson Funeral Home, with Rev. James Lewis officiating. The burial was held at Oakwood Cemetery.
Condolences may be sent online to the family at nicholsonfunerals.com. Memorials may be given to First Baptist Church, 815 Davie Ave., Statesville, N.C. 28677 or to Hospice & Palliative Care of Charlotte, 7845 Little Road, Charlotte, N.C. 28226.
Nicholson Funeral Home-Statesville, N.C., is entrusted with the arrangements.
SHARON 'SHERRY' CURTIS
PICKENS — Sharon Kay "Sherry" Curtis, 59, wife of Matthew Allan Barnes passed away on Sunday, June 12, 2022. Mrs. Curtis was the daughter of the late Janie Elizabeth Youngblood Curtis and Wallace Edward Curtis. She was very creative and very generous, also loved arts and crafts, gardening, cooking and spending time with her family. She always put others first and was a member of Glassy Mountain Church.
Survivors include her husband, Matthew Barnes; three sisters, Sandy Curtis, Khristy Curtis and Tracy James (Richard) all of Pickens; two brothers, Randy Curtis of Abbeville and Ronnie Curtis (Melissa) of Pickens; and many special nieces and nephews.
Visitation was held on June 17, at Glassy Mountain Church, with funeral services following.
Mrs. Curtis was predeceased by her parents and nephew, Todd Blair.
In lieu of flowers memorials may be made to Glassy Mountain Church, 1103 Farrs Bridge Road, Pickens SC 29671.
Mountain View Funeral Home – Pickens Chapel is serving the Curtis family.
CLAUDE 'DICK' BROTHERS
EASLEY — Mr. Claude "Dick" Albert Brothers, 84, formerly of Bucyrus, Ohio, passed away on Saturday, June 18, 2022.
Born in Marion, Ohio, a son of the late Leslie Garland Brothers and Alberta Ruth Schnable Brothers, Mr. Brothers retired from the Bucyrus Fire Department in Ohio, with more than 30 years of service. He was a U.S. Navy and