Category Archives:
Obituaries

CRYSTAL SUE AUSTIN
PICKENS — Crystal Sue Austin, 44, went to be with her Lord and Savior on Sept. 28, 2021.
Miss. Austin was born in Nuernberg, Bavaria, Germany, and was the daughter of the late James B. Austin Sr. and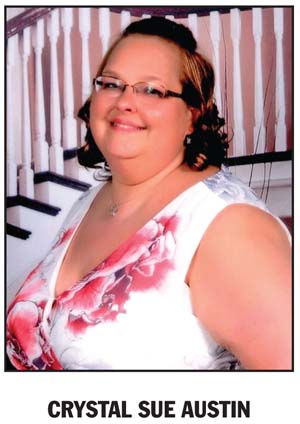 Sue L. Austin of Six Mile.
Survivors in addition to her mother are brothers Erick Austin (Daniela) of Navarre, Fla., and James B. Austin Jr. of Six Mile. Also surviving are a number of loving nieces and nephews.
Miss Austin worked a majority of her career at Walgreens and was her mother's caregiver. She furthered her education in early childhood development. She loved her many nieces and nephews and spent most of her time with family. Most of all, she loved her furry friend Ammo. She enjoyed doing puzzles, going to church, going to the lake and crafting jewelry. She loved adventure and travel. Crystal will be truly missed by her family.
The funeral service was held on Oct. 5 at the Dillard Funeral Home chapel. The burial followed the service at Hillcrest Memorial Park in Pickens.
Dillard Funeral Home is assisting the Austin family.
Online condolences may be sent to dillardfunerals.com.
EMORY V. JONES
DACUSVILLE — Emory Valentine Jones, 80, husband of Joy Connelly Jones, went to be with his Lord and Savior