Category Archives:
Obituaries

JOHN CLARK GALLOWAY
ANDERSON — Mr. John Clark Galloway, 69, loving husband of Rhonda Joyce McCulloch Galloway, of Anderson, passed away Sunday, Sept.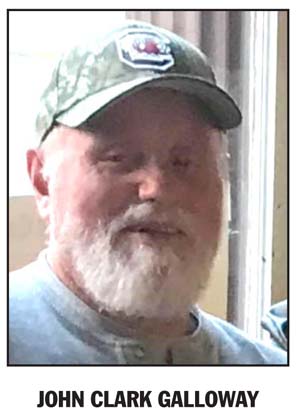 10, 2023 in Sparta, Ga.
Mr. Galloway was born in Pickens County on Jan. 25, 1954 to the late Verner and Marie White Galloway.
He was retired from Nu Life Environmental as a supervisor and in his free time he enjoyed tournament fishing, hunting, bowling, sitting on his back porch watching the deer, and cars, especially project cars. Mr. Galloway was a very competitive person, who loved all sports, especially cheering on his favorite team, the USC Gamecocks. He was a loving man who always tried to be there for anyone going through a difficult time, and truly cared for everyone he met. Family was most important to Mr. Galloway, and he cherished every moment he was able to spend with his grandchildren, and he loved playing with his dog, Buddy. He will be greatly missed by his family, friends and all who had the pleasure of knowing him.
In addition to his loving wife of 10 years, Mr. Galloway is survived by his five children, Jason Galloway (Tonya) of Sparta, Ga., Nathan Galloway (Chasity) of Belton, Ashley Galloway of Easley, Catherine Patterson (Matt) of Florence and Jacklyn Earnhart (Eric) of Easley; his nine grandchildren, Cameron, Austin, Deja, Sebastian, Caroline, Hannah, Mackenzie, Aiden and John; a brother, Billy Galloway (Anne) of Liberty; a step-sister, Donna Raby of Pickens; and his