Category Archives:
Obituaries

FAY HOLLIDAY
PICKENS — Chloe "Fay" Chastain Holliday, 91, died on Sunday, March 19, 2023, at home.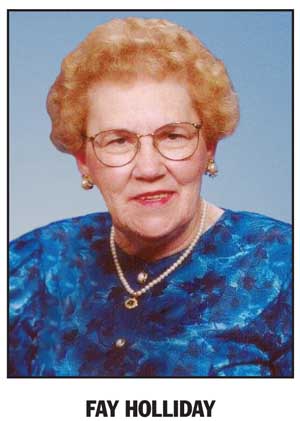 Mrs. Holliday was born on Jan. 23, 1932, in Pickens County, a daughter of the late Arthur "Milton" and Chloe Annie Townes Chastain. She was a 1949 graduate of Easley High School and worked over 13 years in the office of Stone's Manufacturing Company in the Cherrydale area of Greenville. Mrs. Holliday was a member of Holly Springs Baptist Church for 78 years.
Mrs. Holliday is survived by a daughter, Vonda Fay Holliday of the home; and a brother, Harold Chastain (Frances) of Easley.
In addition to her parents, Mrs. Holliday was predeceased by her husband of 51 years (July 6, 1963), Kenneth Cecil Holliday.
Vonda would like to express many special thanks to the members of Holly Springs Baptist Church, family, friends and neighbors for the unselfish way they gave of themselves in the many acts of kindness toward her Mama. May God richly bless each of you for the Christian love you have so greatly shown.
Funeral services will be at 2 p.m. Friday, March 24, at Holly Springs Baptist Church, with Rev. Barry Dilworth and Rev.