Monthly Archives:
November 2018
By Bru Nimmons
Staff Reporter
bnimmons@thepccourier.com
COUNTY — As Christmas inches closer and closer, Pickens County municipalities are all set to start this year's parade season.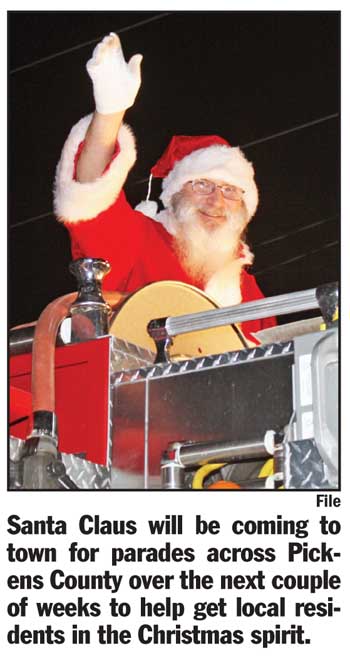 The town of Six Mile will kick off the season this Saturday, Dec. 1, at 10:30 a.m. with its 48th annual parade running along Main Street. Participants will start lining up after 9 a.m.
The city of Liberty will hold its parade at 6 p.m. the same night. Liberty's parade, which is themed "A Candy Cane Christmas," will start at the old high school football stadium and run along S.C. Highway 93.
Next Tuesday, Dec. 4, the city of Clemson will hold its parade downtown. With a "Parade of Lights" theme, the parade will start at 6 p.m. on College Avenue. Longtime local residents Bruce and Dot Yandle will serve as grand marshals in the parade. The city will also have pre-parade festivities beginning at 5 p.m.
On Friday, Dec. 7, the town of Central will host its parade along Main
You do not have permission to view this content
Subscribe Today or Login