BRINGING THE BALANCE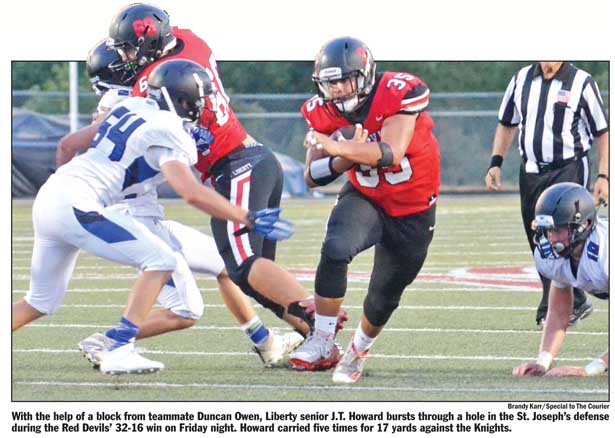 Liberty finds success on offense for win against St. Joseph's
By Clay Counts
Special to The Courier
claycounts21@yahoo.com
LIBERTY — After struggling through a hard-fought loss against county rival Pickens, the Liberty Red Devils turned their focus to ironing out a few kinks ahead of another

non-region tune-up game last Friday against the St. Joseph Knights.
With one last non-region battle planned this week before the heart of the schedule begins with region play, the Devils showed their progression from previous weeks against St. Joseph's Friday night, putting together their most balanced and sharp game for a 32-16 win.
St. Joseph's received the opening kick and drove the ball quickly down the field to gain an early 7-0 lead on the Red Devils.
The Knights' run game appeared to be a struggle for Liberty early on, but quick adjustments by the coaching staff kept St. Joseph's at bay most of the game.
Not to be outdone, the Red Devil offense brought out its most balanced attack of the season on its opening drive, rushing for 57 yards and going 4-for-4 through the air, with the final Carter Smith pass to Jeremy Cason ending in a six-yard touchdown. An unsuccessful two-point conversion attempt left Liberty down 7-6 with 2:10 remaining in the first quarter.
In a quick turn of events, the opening play of the Knights' following drive was intercepted by Liberty's Dale Gantt and returned all the way to the 1-yard line.
Clay Lollis, who led the team with 78 yards on 22 totes, punched in a touchdown on the following play to give Liberty a 12-7 lead.
The second quarter started with a successful drive for St. Joseph's, ending with a 24-yard K.D. Boyd touchdown run. The PAT put the Knights ahead 14-12.
The following drive for Liberty showed some hope, but quickly stalled, forcing a punt.
St. Joseph's took over with good field position at its own 46-yard line. The drive stalled after a third-down tackle for loss by Liberty senior Jack Brissey. The Knights attempted to convert on fourth down, but were stopped behind the line of scrimmage in a joint effort from Brissey and Hunter Powell.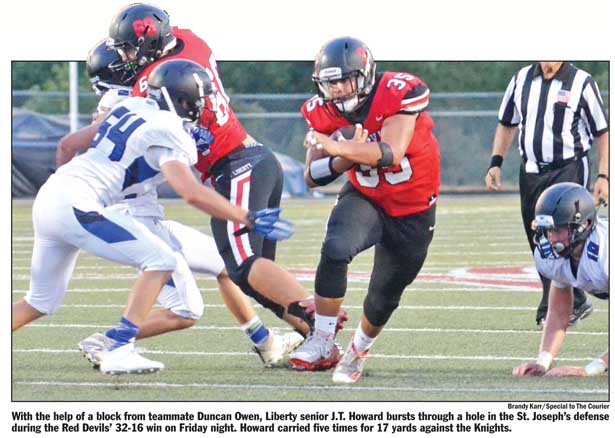 With the ball on their own 41-yard line with only 37 seconds until halftime, the Red Devils pass game led by Smith drove the field, finding the end zone on another six-yard
You do not have permission to view this content
Subscribe Today or Login