Category Archives:
Local News
Driver charged with DUI
By Jason Evans
Staff Reporter
jevans@thepccourier.com
GREENVILLE — A Pickens woman faces multiple charges, including felony DUI with death, after a single-car accident that killed a Pickens High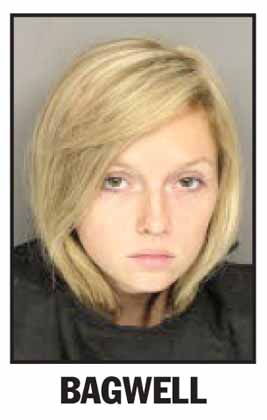 School senior on Saturday night.
Madison Bagwell, 19, is charged with one count of felony DUI with death, two counts of felony DUI with great bodily injury, one count of child endangerment and one count of simple possession of marijuana, according to Cpl. Bill Rhyne of the South Carolina Highway Patrol.
Greenville County deputy coroner Kent Dill said Pickens High School senior Jessica Faye Adeline Adams, 17, was killed in the accident.
The wreck occurred at 11:52 p.m. Saturday on U.S. Highway 25 near Pine Hill Drive, Rhyne said.
Rhyne said Bagwell was driving a 1997 Jeep Cherokee with four passengers when she lost control. The Cherokee went off the left side of the roadway into the median and overturned, coming to rest in the northbound lanes.
Rhyne said Adams was in the front passenger seat, was not wearing a seatbelt and was ejected from the vehicle. She was airlifted to Greenville Memorial Hospital, where she died at 3:25 a.m. Sunday, Dill said.
The cause of death is pending, he said.
A 13-year-old boy and a 13-year-old girl, both from Pickens, were injured and transported to Greenville Memorial Hospital, Rhyne said. They were both wearing seatbelts.
Cal Rampey, 20, of Pickens, was also injured and transported to Greenville
You do not have permission to view this content
Subscribe Today or Login