Category Archives:
Obituaries

KATHY REOME PATTEN
PICKENS — Alice Katherine "Kathy" Reome Patten, 82, wife of the late James Hervin Patten Jr., and resident of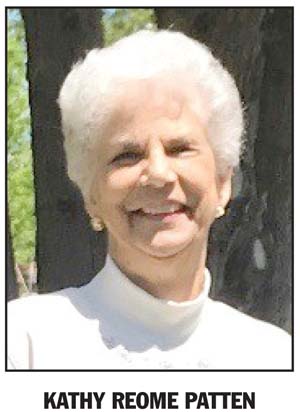 Pickens since January 1961, passed away on Wednesday, Nov. 6, 2019, at Rainey Hospice House.
Born on Dec. 23, 1936, in Beekmantown, N.Y., she was the daughter of the late Edward and Audrey Larabee Reome. She attended public school in West Chazy, N.Y., and Tri-County Technical College in Pendleton. Kathy was a member of Crescent Hill Baptist Church, and she enjoyed flower gardening, bird watching, reading and genealogy research.
Although Kathy lived most of her life in Pickens, she always considered Plattsburgh and West Chazy, N.Y., to be her home, with many treasured friends from that area. Along with her husband and parents, Kathy was also preceded in death by one brother, Olen Reome.
Surviving are her son, Jimmy Patten (Paula); two daughters, Joni Lathem (Jerome) and Judi Reeves Wyatt (Scott); one brother, Richard H. Reome (Shirley); three sisters-in-law, Fairley Reome, Maxi Stancil and Dorothy Patten; six grandchildren, Jeremy Lathem, Kelli Teat (Clark), Jamie Patten (May May), Kadron Waugh (Anthony), Kamila Reeves (Evan Allen) and Jared Patten; five great-grandchildren, Peyton Waugh, Julian Lathem, Zachary Waugh, James Waugh and Colton Teat, and many nieces and nephews. She is also survived by her furry friend, Boog.
Funeral services were held on Nov. 9 in the Dillard Funeral Home chapel, with the Rev. Scott Allen officiating. Entombment followed at Hillcrest Memorial Park.
Memorials may be made to Crescent Hill Baptist Church, 115 Crescent Hill Drive, Pickens, SC 29671, and/or to the Dream Center, 5991 Calhoun Memorial Highway, Easley SC 29640.
Online condolences may be expressed to the Patten family by visiting dillardfunerals.com.
CRAIG S. SNIDER
EASLEY — Craig Stephen Snider was born into this life on Aug. 18, 1951, and passed into the next on Thursday, Oct. 31, 2019.
Craig was a lifelong resident of Easley. He attended East End Elementary and graduated from Easley High School's