Category Archives:
Obituaries
Arvie Lee Finley
PICKENS ­— Arvie Lee Finley, 84, wife of the late Don "Shorty" Finley, of
Pickens, passed away on Thursday, Oct. 11, 2018, at Manna Rehab in Pickens.
Born in Pickens County, Mrs. Finley was the daughter of the late James Perry and Evie Anderson Byers. She worked at Platt Saco Lowell for 13 years and was a member of East Pickens Baptist Church.
In addition to her husband and parents, Mrs. Finley was preceded in death by sisters Faye Trotter and Villa Mae Gillispie and brothers Raeford, Wilvin, Arlie and Donald Byers, all of Pickens. She was also preceded in death by a son-in-law, Jimmy Grubbs of Seneca.
Mrs. Finley is survived by her daughters, Pamela Grubbs Holliday (Phil) of Six Mile and Myra Nimmons (Randy) of Pickens. Also surviving are grandchildren Nicole Grubbs Wallace (Nicholas) of Dillon and Kyle Nimmons and Peyton Nimmons of Pickens; and great-grandchildren,
Mills, Hayes, Finley and Stella Banks Wallace of Dillon.
She is also survived by a brother, B.F. Byers of Pickens, and a special niece, Brenda Brannock of Pickens, as well as many other nieces and nephews.
A private graveside service will be conducted at Hillcrest Memorial Park, with entombment at the mausoleum. Donations can be made to the church she grew up in, Midway Baptist Church, at P.O. Box 1376, Pickens, SC 29671
Grace Marian Bailes Givens
ROCKY BOTTOM — Marian Givens, 81, of Rocky Bottom, passed away on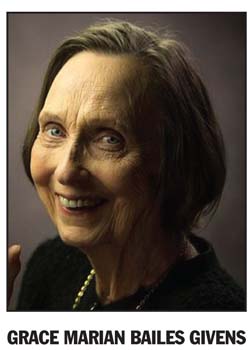 Oct. 20, 2018.
Born in St. George, Marian was the daughter of the late Dr. Robert William and Grace Riddle Bailes. Marian lived in Greenville, Travelers Rest, Pickens, Beaufort and Rocky Bottom (Sunset). She also lived in Haiti and Kansas City, Kan., Kannapolis, N.C., and Pascagoula, Miss. Her most cherished time spent was with her loving husband, Gene Givens, at their home place in Rocky Bottom.
She is survived by two sons, J. Allan Givens (Melody) of Los Angeles, Calif., and R. Michael Givens of the home; four grandchildren, Jennifer Givens (Mark) Thrasher of Anderson, Micael Givens (Brandon) of Orlando, Fla., Olivia Givens of Chicago and Chandler Givens of Greenville; great-grandchildren, Hannah, Connor, and Mark