Category Archives:
Sports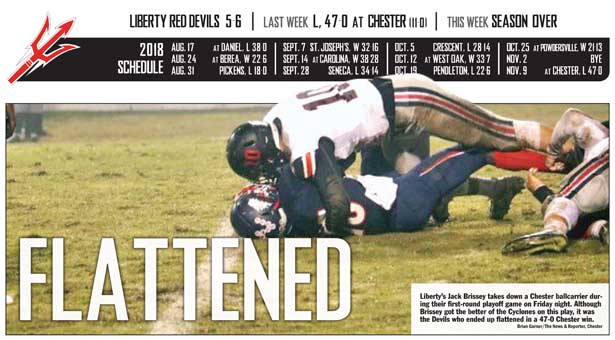 By Clay Counts
Special to The Courier
claycounts21@yahoo.com
CHESTER — Led by a stifling defense, the undefeated Chester Cyclones rolled over Liberty in the two teams' Class 3A playoff opener on Friday
night with a 47-0 shutout.
But the result of one game does nothing to define this year's Red Devils, according to coach Kyle Stewart.
Despite a small roster, Liberty showed heart and determination even when facing the toughest odds this season — the team's first in Class 3A.
"It's been a difficult year with our numbers, but the guys did not back down," Stewart said. "I believe they can be proud of the fact they bumped up to 3A and made the playoffs in year one."
Despite playing with a stark lack of depth all season long, the Devils finished the regular season with a .500 record and managed to take fourth place in Region I-3A to earn their shot at the postseason — a school record third playoff berth in as many years.
With a long road trip to open the playoffs at Chester, the Red Devils got a warm sendoff from the community, as many fans showed their support at the school as the team hit the road Friday.
After an extra week of rest and preparation, the Devils looked to spoil the Cyclones' perfect season and advance to the second round, but it was not to be, as the Chester defense held Liberty to just 58 total yards in pitching the shutout.
"Our guys played hard," Stewart said. "(The Cyclones) hit a couple of big
You do not have permission to view this content
Subscribe Today or Login