Easley woman awarded first Zimmerman Scholarship
EASLEY — A second-career nursing student, prompted to go into the field because of how nurses cared for her dying grandmother, is the recipient of the debut Robyn Zimmerman Scholarship.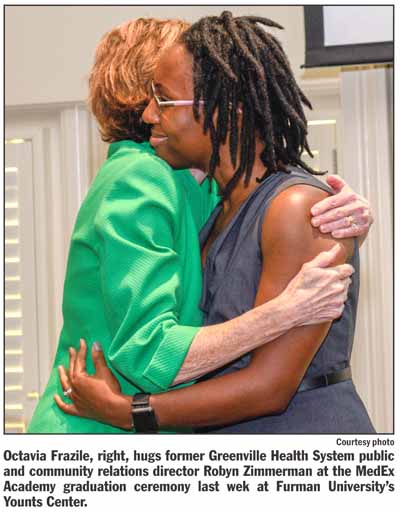 The award is in honor of longtime Greenville Health System public and community relations director Robyn Zimmerman, who retired from GHS in 2015. The scholarship will benefit students at GHS' Medical Experience (MedEx) Academy, an innovative work force development program at Greenville Health System.
The first recipient is Octavia Frazile of Easley. Frazile will be a sophomore at Greenville Technical College this fall. The surprise honor was presented to Frazile by Zimmerman at the MedEx
You do not have permission to view this content
Subscribe Today or Login