Holiday market to kick off Christmas at Hagood Mill
Event set for Dec. 7-8, 14-15
PICKENS — The public is invited to kick off the Christmas season at the holiday market at Hagood Mill in Pickens on Dec. 7-8 and Dec. 14-15.
Each day from 10 a.m.-9 p.m., vendors will be selling their handmade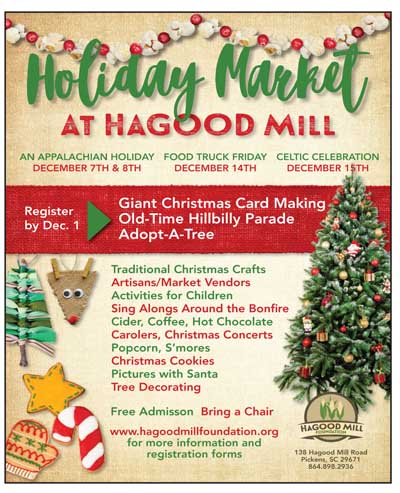 crafts in inside and outside locations. Vendors must register by Dec. 1. Artisans will demonstrate their Appalachian crafts, and Christmas activities will be going on in tents for both kids and adults.
Entertainment is scheduled throughout the day and night, including school and church groups, the Sweet Potato Pie Kids, bluegrass and old-time music groups, as well as Christmas singalongs around the bonfire. Celtic
You do not have permission to view this content
Subscribe Today or Login