Lady Blue Flame clinch region volleyball crown
CENTRAL — The Pickens High School Lady Blue Flame volleyball team traveled across the county to Daniel on Monday in a huge rivalry matchup.
The Lady Flame entered the contest at 8-0 in Region I-4A play with a chance to clinch a region title by beating the 7-1 Lions.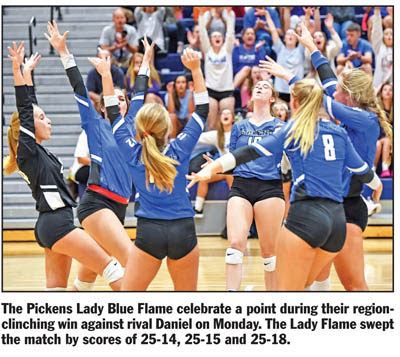 Pickens walked into the Lions' den amidst the thunderous noise of rabid fans and loud music. But when the Lady Flame came out, not only did they have a 3-0 victory, they also added another region volleyball title.
Pickens started strong in set one and kept the strong play going all the way until the final set. There, the Flame faced their first bit of adversity, falling behind 6-2 before digging deep and finishing off Daniel. The Lady Flame swept the match by scores of 25-14, 25-15 and 25-18.
The top servers for Pickens were Sydney Bolding, who recorded five aces
You do not have permission to view this content
Subscribe Today or Login