West Nile Virus confirmed in person in Easley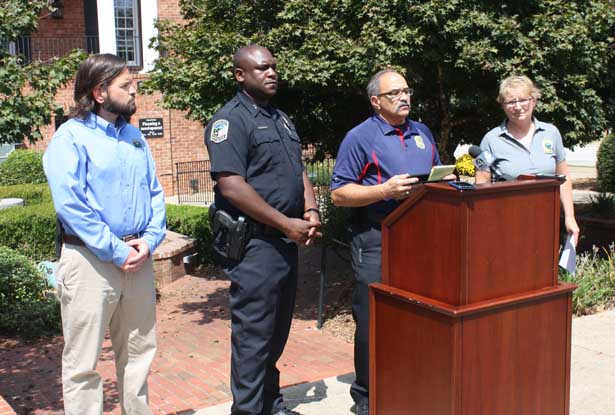 City and county working together to spray Easley area with insecticide
By Rocky Nimmons
Publisher
rnimmons@thepccourier.com
EASLEY — A case of West Nile virus has been confirmed in a person in Easley.
In a special news conference at Easley City Hall on Friday, Pickens County and Easley officials confirmed that a single person in the Easley area had tested positive for the disease.
This is the first case ever reported in Pickens County, although some have occurred in the Upstate in Greenwood and Spartanburg counties.
According to the Centers for Disease Control and Prevention (CDC) West Nile is a virus most commonly spread to people by mosquito bites. In North America, cases of West Nile virus occur during mosquito season, which starts in the summer and continues through fall.
West Nile cases have been reported in all of the continental United States. There are no vaccines to prevent or medications to treat the virus in people. Fortunately, most people infected with West Nile do not have symptoms. About one in five people who are infected develop a fever and other symptoms. About one in 150 infected people develop a serious, sometimes fatal, illness. People can reduce their risk of West Nile by using insect repellent and wearing long-sleeved shirts and long pants to prevent mosquito bites.
Easley and county officials are working together and plan to spray insecticide around the greater Easley area. The spray is expected to start around 3 or 4 p.m. Saturday and will be done with drones, according to Easley Fire Department chief Butch Womack.
Womack urged all who have respiratory condition to stay indoors with windows shut through Sunday or leave the Easley area while the spraying is being done. Womack said the spraying time will be determined by weather and when the company doing the spraying can get to Easley.
Womack said the city of Easley has been using mosquito larva tablets for three years.
"With that precautionary measure, we hope that will take care of most of it," he said.
Pickens County Emergency Management director Denise Kwiatek said during the news conference that the virus is not transmitted from person to person, as humans can only be given the virus by mosquitos that have gotten it from birds.
She added that officials believe the threat is strictly in the Easley area, but anyone who sees dead birds around their home should make sure to contact county officials to be tested for the virus.
Womack added that officials hope to eliminate the threat of mosquitoes as best they can and urged all to look around their homes and yards and empty any containers that may have standing or stagnant water. Womack said mosquitoes can lay eggs in as little as a tablespoon of standing water.
Insecticide spraying will begin on Saturday in Easley. Official are hoping one application will eliminate the threat of the virus spreading, but did not rule out more spraying once tests are done following the initial treatment.