13th annual youth football jamboree slated for Liberty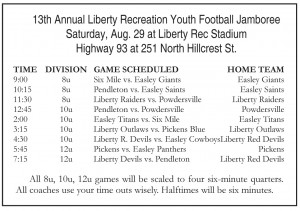 LIBERTY — The Liberty Recreation Department will host its 13th annual Invitational Youth Football Jamboree on [cointent_lockedcontent]Saturday, Aug. 29, at the City Stadium (formerly old high school stadium), located at 251 North Hillcrest St.
Their will be a total of 18 youth football teams participating in the jamboree. Each team will play a full game with a pre-determined opponent in their respective age division.
There will be three age divisions represented — 8u, 10u, 12u. Teams will be from the Tri-County/Palmetto Association and will include the following departments: Liberty, Pickens, Easley, Six Mile, Pendleton and Powdersville. The first game will kick off at 9 a.m., with the last game of the day slated to start up at 7:15 p.m.
The admission charge is $3 for adults and $2 for students. Each ticket is good for the entire jamboree. Each of the eight football games will be scaled down to four six-minute quarters, so roughly a little more than an hour in length. The concession stands will be open, offering everything from ice cream to hot dogs.
[/cointent_lockedcontent]