1800s medicine show, fireworks added to Founders Day festivities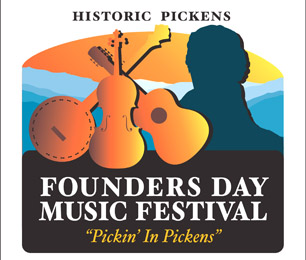 PICKENS — The City of Pickens' second annual Founders Day Festival is scheduled for next Saturday, with a pair of new and exciting additions.
New this year will be an authentic medicine show. Based upon an actual medicine show of the early 1800s, the traveling troupe from Ohio will bring magic, juggling, feats of strength and dexterity, fire-eating and escapology to the event. The show will go on throughout the day.
"Every year we're going to try to improve this event," special events chairman Wayne Kelley said. "I know everyone, young and old, will love this special show."
In addition, the city will deliver a spectacular fireworks display, rescheduled from its annual July 4 event, at the conclusion of the day's events. Other changes this year include the West Main location, use of the new city outdoor amphitheater and the addition of a Hot Licks competition. The free event, celebrating Pickens' music and cultural heritage, will begin at noon and will conclude with fireworks at 8:45 p.m. This year's band schedule opens with the Blue Flame Bluegrass Band and ends with Deja Bluegrass. The Hot Licks competition is scheduled for 3:05 p.m., followed by the Big Jam. Both fun events are open to anyone who wishes to participate.
Founders Day will feature much more than music. Living history reenactments will be staged with musket, long rifle, and cannon firing demonstrations. A large number of specially selected vintage vehicles, including trucks, tractors and cars, will again be on display. The Hagood-Mauldin House and the Pickens County Museum, where Pickens' history can really be seen, will be open for tours.
This year, many more vendors will offer traditional items, original arts and crafts, and food and beverage such as homemade ice cream. Experts in "lost crafts" will provide demonstrations on blacksmithing, quilting, musical instrument construction, gunsmithing, and more.
In addition to the medicine show, other special activities, such as face-painting and storytelling, will entertain the kids. An Andrew Pickens reenactor will again be there throughout the day to tell of his life and have photos taken with him. He will also share his 274th birthday cake with everyone.
The festival is being planned by the many volunteers associated with the Pickens Revitalization Association. This year's major sponsors are the City of Pickens and Cornell Dubilier Enterprises. The Corner Drug Store, Great Oaks Dental, Blue Ridge Electric Co-op and Paradise Home Improvement are Heritage sponsors. Friends sponsors include the Village Inn Restaurant, Pickins Guitar Company and Joe Padgett. Additional support for the event has been received from the GateHouse Restaurant, Head First Hair Salon, Luther Johnson Funeral Home, Nestfeathers, Lark Search Associates, Pace & Reeves BP, Pickens Dental Associates, Pizza Inn, Thomas Realty, Pickens Savings & Loan and YM Construction Company. For more information on the festival, contact the PRA at (864) 878-0105 or visit www.historicpickens.com.