2-county chase ends in arrest
Investigation continues after 1 suspect escapes
COUNTY — An investigation into drug complaints led to a two-county car chase and a man's arrest last week.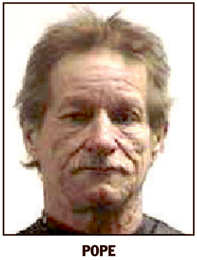 According to a news release from Pickens County Sheriff's Office chief deputy Creed Hashe, deputies assigned to the office's Community Action Team were in the Fish Trap Road area near Easley on Thursday evening investigating neighbors' complaints of suspected drug activity.
When deputies tried to stop a suspicious Nissan Altima that appeared the be fleeing the area after seeing a patrol car, Hashe said, the driver ran a red light, refusing to yield to a deputy's signal to stop, then proceeded into Greenville County on U.S. Highway 123.
The pursuit reached speeds of around 65 mph, according to Hashe, before the driver made his way to the intersection of South Washington and South Florida avenues in Greenville County.
The driver, later identified as James Allen Pope, 56, of 10 Old Anderson Road in Greenville, stopped the vehicle in the roadway after it became disabled and was operating at a speed of 25 to 35 mph.
The driver and a female passenger got out of the car and fled on foot. Pope was captured and arrested without incident, while the passenger, identified as Tracy Renee Scivedge, 43, escaped.
The vehicle used in the chase was found to have been reported stolen in Greenville County.
Pickens County officials charged Pope with disregarding a stop light, failure to stop for blue lights, driving under suspension — second offense, unlawful use of another vehicle's license plate and two counts of unlawful possession of a firearm.
Pope, who is being held in the Pickens County Detention Center on more than $30,000 in surety bonds, also faces pending charges of auto theft and possession of stolen property from Greenville County authorities.
The investigation into the incident is ongoing, and Hashe said charges were expected to be filed against Scivedge.
Methamphetamine was found inside a pocketbook in the car, and deputies were still unsure if the item belonged to Scivedge, Hashe said.
"This incident is exactly the type of criminal behavior that our citizens have banded together to report," sheriff Rick Clark said. "The communities within Pickens County will no longer stand by and allow thieves and drug users to tear down our community. The sheriff's office is committed to fighting this battle for Pickens County residents."