2 dead, 1 hurt in Liberty shooting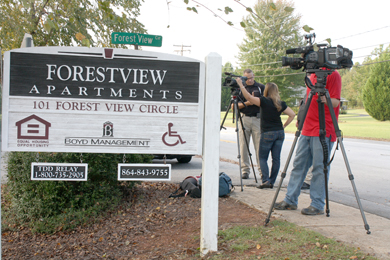 Liberty police chief Adam Gilstrap speaks to a reporter outside the Forestview apartment complex in Liberty, where a shooting Friday afternoon claimed the lives of two men and sent another to the hospital with non-life-threatening injuries.
Man, nephew killed, investigation ongoing
LIBERTY — Two family members were killed and another man injured in a shooting at a Liberty apartment complex on Friday afternoon.
According to Pickens County coroner Kandy Kelley, 42-year-old Steven Chapman of Cooper Drive in Liberty and 22-year-old Houston Chapman of Forest View Circle in Liberty died from gunshot wounds.
Kelley said Houston Chapman was Steven Chapman's nephew.
A third man, identified as Benjamin Pilgrim, 32, was airlifted to the hospital with non-life-threatening injuries, according to Liberty police chief Adam Gilstrap.
Gilstrap said officers received a 911 call just before 2:30 p.m. about a shooting at Forestview Apartments on Summit Drive.
Upon arrival, police found Steven Chapman and Pilgrim laying on the ground in the parking lot suffering from gunshot wounds and Houston Chapman laying on the sidewalk leading to an apartment building, according to a police report.
"Civilians were trying to render aid to all three subjects," the report said.
The reporting officer said he saw a family member kneeling over Houston Chapman with a .40-caliber Smith and Wesson handgun sticking out of his back pocket. When the officer removed the gun from the family member's pocket, the family member said the gun belonged to Houston, according to the report.
Houston Chapman was pronounced dead at the scene, Kelley said. Steven Chapman was later pronounced dead at Baptist Easley Hospital.
Gilstrap said officers determined there was no threat to the community, as all those involved in the shooting were "identified and under control."
Although the apartment complex is a short distance from Liberty Middle School, School District of Pickens County spokesman John Eby said the school never went into lockdown.
"We understand parents are concerned about student safety after a shooting occurred near the school this afternoon," Eby said in an email to parents on Friday. "When we heard that a shooting may have occurred, we contacted law enforcement. At that time, the Liberty Police Department informed us that the situation was under control, and they did not advise a lockdown. We always cooperate with law enforcement when making lockdown decisions, and we did not dismiss students before we were certain that their safety was assured."
No charges have been filed in the case, although the investigation is ongoing.