Daily Archives:
11/05/2019

POLLY MCCCALL LUSK
PICKENS — Pauline "Polly" McCall Lusk, a longtime resident of Pickens County, passed away on Tuesday, Oct. 29,
2019, at the age of 85, surrounded by her family.
She was born in Mountain Rest on Jan. 3, 1934, to the late Erby and Bertha (Nicholson) McCall. She married the late Fred Lusk Sr. on March 4, 1955. Polly was a licensed practical nurse for many years.
She is survived by two children, Linda (Larry) Roach and Fred Lusk Jr.; grandchildren, Heather (Corey) Hefner, Blaire Roach, Sarah Lusk, Savannah Lusk and Christopher "Kit" Lusk; and great-grandchildren, Ryleigh Hefner, Carolina Hefner and Walker Hefner.
She was preceded in death by siblings, Ralph McCall, Grady McCall, Erby McCall Jr., Aileen King, Carrie Shelor and Beulah Hamilton.
Memorial services were held at Fred W. Symmes Chapel "Pretty Place" (4336 Camp Greenville Road, Cleveland, SC 29661) on Nov. 2.
JANICE MAYNE O'CONNER
SENECA — Janice Mayne O'Connor, 84, of Seneca, died Friday, Nov. 1, 2019, at Oconee Memorial Hospital.
Born Jan. 5, 1935, in Archbald, Pa., she was the daughter of her late parents, Russell and Isabel Mayne of Archbald, Pa.
She was predeceased by her late husband of 45 years, Eugene F. O'Connor of Seneca, and son, Jeffrey D. O'Connor of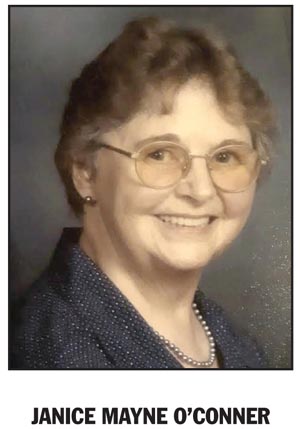 Charleston. Two brothers, Richard and David Mayne, also preceded her in death.
Janice and her family arrived in the Upstate in March 1975 and joined University Lutheran at that time. She worked in the environmental engineering department and, after 19 years of service, retired from Clemson University in 1995. She enjoyed gardening, bird watching, traveling, church activities, bowling and being a grandmother. Janice was a lifelong avid reader, expert seamstress and Clemson Tigers fan.
Surviving are a sister, Roberta Culver of Potsdam, N.Y.; three daughters and two sons-in-law, Linda O'Connor of Altadena, Calif., Diane and Mike Logan of Seneca and Karen and Greg Arburn of Marion, Ohio; three sons and three daughters-in-law, Kevin and Shirin O'Connor of Sugar Land, Texas, Brian and Dilce O'Connor of Haymarket, Va., and Glen and Taffi O'Connor of Clinton. Also surviving are 16 grandchildren and seven great-grandchildren.
Memorial services will be conducted at University Lutheran Church on Friday, Nov. 8, 2019, at 1 p.m. by Pastor Jon