Daily Archives:
01/14/2020
By Bru Nimmons
Staff Reporter
bnimmons@thepccourier.com
EASLEY — Facing any opponent without your starting point guard is a tough proposition, but the Easley Green Wave boys' basketball team seemed up to the challenge without sophomore guard Princeton Rhodes early on in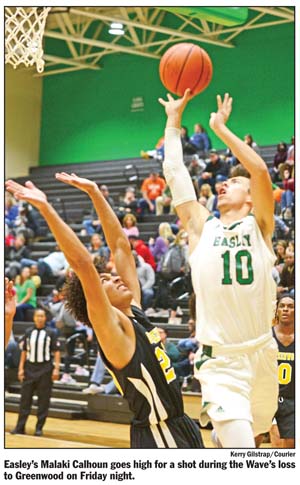 Friday night's region matchup against the Greenwood Eagles.
Rhodes' absence proved too much, though, as turnovers and sloppy play plagued Easley down the stretch in a 64-50 loss.
"When Princeton is out, we have to play guys at different positions," Easley coach Mike Jones said. "Then, when you play a team that is so athletic and so defensive-minded like Greenwood, it really exploited some of the areas that we are normally stronger at."
With Rhodes out with injury, sophomore Kain James picked up the slack and had a strong game, scoring 15 points and keeping  Easley afloat in a game that always seemed within reach, even though the Green Wave were unable to close the gap.
"Every time we started to make a push, I felt like they upped the pressure defensively," Jones said. "Some bad turnovers at those critical points just never allowed us to get over the hump."
The Wave started off in a hole, letting Greenwood go on an 8-1 run
You must be logged in to view this content.
Subscribe Today or Login