Monthly Archives:
October 2021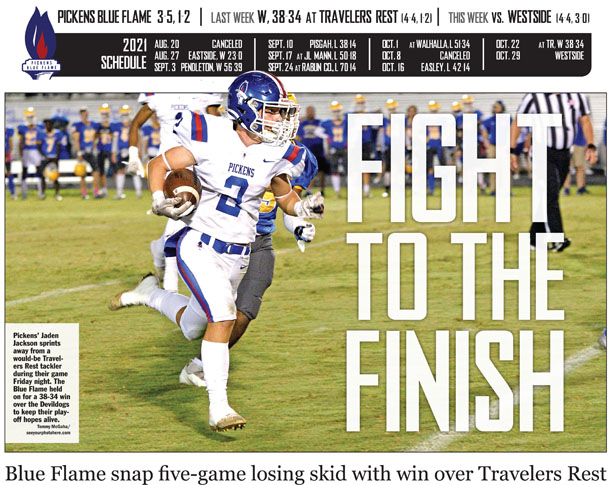 By Bru Nimmons
Staff Reporter
bnimmons@thepccourier.com
TRAVELERS REST — After recovering an onside kick up 38-34 with less than a minute and a half to play, the

Pickens Blue Flame seemed to have wrapped up their first victory since early September
against Travelers Rest on Friday night.
But the Devildogs had other plans, forcing a turnover on downs at their own 30-yard line to give themselves a chance for some late-game heroics.
With 35 seconds left, the game was going to come down to a Blue Flame defense that struggled to get stops during their five-game losing streak and an explosive Devildog offense led by receiver Jacari Hellams.
According to Pickens tailback Andon Rogers, there was no doubt that his team would get the stop, as it had in key moments throughout the night.
"I had full confidence in our defense," Rogers said. "I knew they were going to get the stop."
Rogers' confidence proved wise, as freshman linebacker Anthony Nix picked up a sack to force the Devildogs into two unsuccessful last-second heaves, and a Jaden Jackson interception sealed a 38-34 win that kept the Blue Flame's playoff hopes alive.
While the defense's play late was essential for the victory, it was the play of Rogers down the stretch that kept Pickens alive for the entirety of the second half. After picking up just 45 yards in the first half as freshman fullback Carter McCollum carried the load, Rogers came alive in the second half, picking up 138 yards and two touchdowns.
"I kept saying 'We've gotta win this game,'" Rogers said. "If we don't win this, we're not going to the playoffs."
Rogers, who totaled 183 yards on 28 carries with four touchdowns, said the driving factors in his game-changing second half play were his disappointment in the Blue Flame's matchup with Travelers Rest in 2020 and a friendly rivalry with Devildog tailback A.J. Rains.
"I've known A.J. since middle school," Rogers said. "Competing against him, I just kept telling myself, 'He can't beat me. I can't go through that again and give him bragging rights.'"
Rogers' day may have ended up overshadowing McCollum, but the freshman made his presence felt throughout the night, as he pounded away at Travelers Rest to the tune of 26 carries for 133 yards as he opened things up for Rogers. For McCollum, it was the second straight week in which he went over the 100-yard mark, as he continues to fill in admirably for injured senior Brennan Perkins.
"They played great, but they played behind a pretty good offensive line," Pickens head coach Chad Smith said of his backs. "You can't say enough about Carter McCollum — he is a man as a freshman — and Andon is just Andon."
That offensive line took a major hit during the second quarter, as senior center and team captain Griffith Roach went down with a lower-leg injury, hampering the Blue Flame rushing attack and allowing Travelers Rest to come back and tie the game at 21-21 at the half.
After receiving treatment from the Pickens training staff, Roach tested out his leg and came back in the second half to help provide the boost the Flame needed up front.
"It was amazing," Smith said of Roach's second-half return. "He's a tough kid, and he's a captain for a reason. I'm really going to miss him next year."
As impressed as he was with the fight his defense showed late, Smith was quick to point out the way they started, with a fumble recovery by freshman Luke Scruggs and a pick-six by Jackson helping Pickens take an early 14-0 advantage.
"First half, we had a lot of help from our defense," Smith said. "They were knocking the crap out of them."
Despite both his offense and his defense clicking, perhaps the proudest moment of the game for Smith may have come late in the fourth quarter, as his son, sophomore kicker Hunter Smith, drilled a 23-yard field goal attempt to give the Blue Flame a 10-point advantage with less than two minutes remaining in the contest.
"I've got a lot of faith in him — he's a good kicker," Smith said. "It was a kick under pressure, and he nailed it. It was a proud coach moment and a proud dad moment."
With the win, the Blue Flame now move into a three-way tie with Travelers Rest and Walhalla at the bottom of the region. A win against Westside this week would secure a playoff spot for the Blue Flame, and Smith is happy that his team has positioned itself for a playoff opportunity after its troubles over the last month.
"The kids fought unbelievably hard, and I'm very proud of them," Smith said. "That was one heck of a ball game."
The Blue Flame will return to action at home on Friday against Westside. The game will be held at Bruce Field in Pickens due to continued groundwater issues at Bill Isaacs Field. Kickoff is set for 7:30 p.m.