Bryant, Tiger offense shine in opening win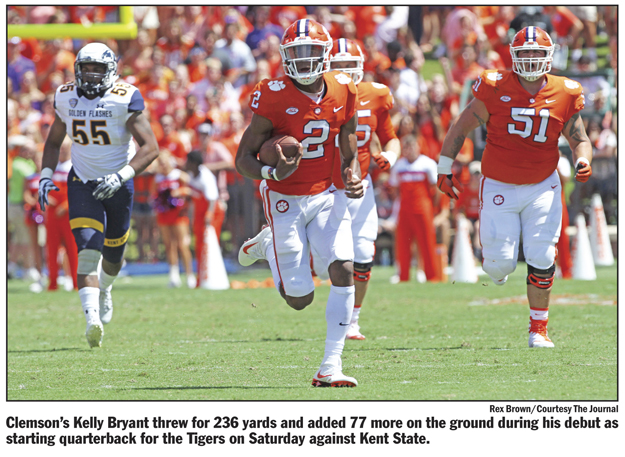 By Alex Maminakis
Courtesy The Journal
alex@upstatetoday.com
CLEMSON — The Clemson Tigers haven't skipped a beat.
No. 5 Clemson opened its 2017 season with a 56-3 thrashing of Kent State
Saturday afternoon in Memorial Stadium.
Kelly Bryant made his debut as the Tigers' new starting quarterback and didn't waste any time helping the Clemson offense make a good first impression. The Tigers used a four-play opening drive that took 1:18 to get on the board, capped off by a 26-yard touchdown run by former Easley High School standout C.J. Fuller.
Clemson's second drive was even shorter — 42 seconds — as Bryant dropped in a perfect pass to Deon Cain for a 61-yard touchdown.
The rout was on from there.
"That was good, getting to come out there first, getting the confidence, get it under our belt," Bryant said after the win. "Also, hitting the big play to Deon — he made a play, that's what he does, and that's what we've got in that offensive room."
Bryant played into the third quarter and completed 16 of his 22 pass attempts for 236 yards, one touchdown and
pms-restrict]
one interception. He added one rushing touchdown and 77 yards on seven carries. Bryant's 313 yards of total offense were a Clemson record for a season opener, eclipsing Tajh Boyd's 312 in 2013.
The offense racked up 665 total yards, averaging 8.5 per play.
"There was really no drop-off from the first group to the second group — everybody all game was playing comfortable and fast," Cain said of the offense. "At the end of the day, I was proud of everyone, and we just kept the momentum going throughout the whole game."
Fuller ran for 51 yards and two scores, and Adam Choice and Tavien Feaster each found the end zone as well, but freshman Travis Etienne led the Tigers in rushing with 81 yards and a touchdown.
Defensively, Clemson lived up to its preseason hype. The Tigers allowed just 120 total yards to the Golden Flashes while allowing just 1 passing yard on five attempts.
Tanner Muse, Kendall Joseph and Chad Smith led the way with six tackles each.
Clemson head coach Dabo Swinney said all throughout fall camp that many people outside the program were spending a lot of time talking about the players who had moved on and not about the players who were stepping into those roles this season.
On Saturday, those new players impressed in the time they spent on the field, but Swinney already knew what those players, like Bryant, were capable of.
"If he'll just play anywhere remotely close to what he's done in camp, he's gonna be pretty good," Swinney said of Bryant. "He's put in a ton of work — great to see him so poised and confident. He's really become a good leader for us."
At the end of the day, Clemson did what it was expected to do and won the opener in lopsided fashion. The offense struck quick and often, and the defense smothered Kent State, which were positive signs considering the new starters that the Tigers debuted. But Swinney and the Tigers know they have a long, grueling season ahead of them, with Auburn coming to town this Saturday.
And as Swinney said, the season-opening win was a good start, but there's still a lot of work to be done.
"It's one game — they're not gonna anoint us the one-game champions of the season," Swinney said. "We've got a long way to go (and) we've got a lot of work to do. We'll play teams where there won't be near as much margin for error. But, at the end of the day, you've got to take care of business of the task at hand, and that's what they did today."
[/pms-restrict]
Subscribe Today or Login