3 arrested after chase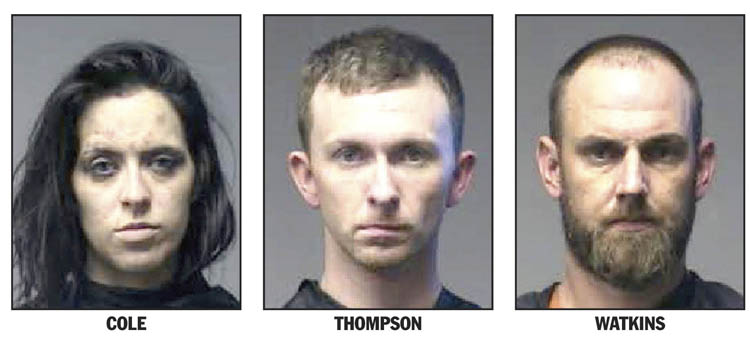 COUNTY — Three people were arrested after a two-county chase that started in Pickens County and ended with a crash in Anderson County last week.
A South Carolina Highway Patrol trooper tried to initiate a stop on a car on S.C. Highway 93 around 1 a.m. on Thursday after he suspected the driver was under the influence.
The driver did not stop, according to troopers, and led the officer on a chase that eventually ended when the vehicle ran off the road and into a ditch on Martin Road in Anderson County.
The driver of the car, identified as 28-year-old Richard Edgar Thompson of Easley, was arrested and charged with failure to stop for blue lights, driving under the influence, driving under suspension, trafficking in cocaine, possession with intent to distribute methamphetamine and simple possession of marijuana, according to Pickens County Detention Center records. He was also served with six bench warrants and is being held without bond.
Two passengers in the car, Wade Douglas Watkins, 37, of Greenville, and 25-year-old Mistie Stephanie Cole of Spartanburg, were also arrested after the chase, troopers said.
According to PCDC records, Watkins was charged with trafficking methamphetamine and Cole was charged with distribution of methamphetamine. The two were both being held Tuesday on $15,000 surety bonds.