3 arrested in suspected stolen property, drug ring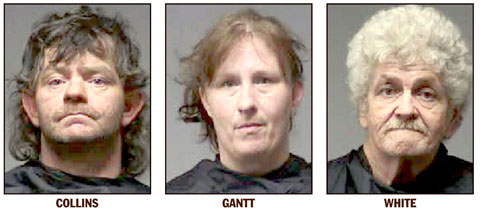 PICKENS — Pickens County Sheriff's Office deputies broke up what they believe to be a local dump site where stolen property was exchanged for drugs last week, according to chief deputy Creed Hashe.
Hashe said sheriff's office detectives executed a search warrant for suspected stolen property at 294 Hidden Valley Road in Pickens just after daybreak last Tuesday.
Over the next three days, Hashe said, detectives recovered more than 60 guns, a stolen boat, a stolen four-wheeler, a stolen motorcycle, a stolen go-kart and multiple tools.
Four of the guns were listed on the National Crime Information Center as stolen from Pickens, Liberty, Pickens County and Greenville County, Hashe said.
The investigation also led detectives to 118 Bellwood Road in Pickens, where they recovered more property, according to Hashe.
Detectives also seized $4,625 in cash, he said.
Ricky James Collins, 41, of the Bellwood Road address, faces multiple charges in relation to the bust, including three counts of receiving stolen goods, possession of a weapon during a violent crim, trafficking methamphetamine, distribution of methamphetamine and possession of a controlled substance.
In addition, Thomas Daniel White, 60, of the Hidden Valley Road address, faces a second-offense methamphetamine distribution charge. Rhonda Gail Pilgrim Gantt, 43, of 240 Sid Edens Road, was also arrested on a charge of second-offense possession of methamphetamine.
"The consistent message that I hear from citizens all across the county is that they are tired of having their property stolen by thugs and dopers," sheriff Rick Clark said. "As you can see from this bust, if you choose to steal and use drugs in Pickens County, we will eventually hunt you down and arrest you.
"My advice is to get some help or leave this county to commit your crimes."