Courier Obituaries 7-13-19

TOMMY LAMAR WIRES
PICKENS — Tommy Lamar Wires, 79, went home to be with Jesus on Monday, June 17, 2019.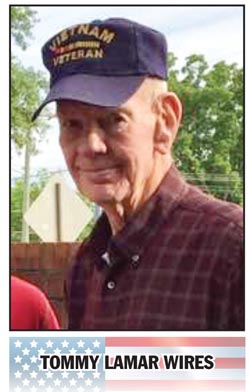 He is survived by his loving wife, Brenda of the home; two sons, David Wires of Pendleton and Bill Wires of Anderson; two grandchildren, Carson and Logan Wires of Anderson; sisters-in-law Barbara Day of Pickens and Margene, Ola Lee and Janice Wyres of Tuscaloosa, Ala. He was preceded in death by his parents, Fred O. and Lonnie B. Wyres; sister, Ruby Colburn; and brothers, Frank Wyres, Willie Wyres, Richard Wyres, Parson Wyres and Bobby Wyres.
Along with an unwavering loyalty to his family, Tommy was devoted to his Lord, his country and his community. Tommy continuously showed his love of the Lord through random acts of generosity. Tommy served his country in the United States Marine Corp for 10 years and served two tours in Vietnam, for which he was awarded the Purple Heart. Tommy served his community through the American Legion by going to local elementary schools to teach students patriotism and the proper way to handle the American Flag. Tommy was a true example of how to show love for God and country.
Funeral services ere held on June 26 at Griffin Baptist Church in Pickens, officiated by Rev. Mark Bernshausen. Burial was held in the church cemetery with full military honors.
Special thanks is extended to the staff of AnMed Cannon for their loving care of Tommy and the family during his final days.
Dillard Funeral Home is assisting the Wires family.
Online condolences may be sent to dillardfunerals.com.
SAM STOKES
PICKENS — Sammy Watson Stokes Sr., 81, husband of Frances Cole "Tunkie" Stokes, passed from this life on Monday, June 24, 2019.
Sam was born in Pickens County, a son of the late Jacob Earle Stokes Sr. and the late Nettie Watson Stokes. He was a graduate of the University of Georgia with a B.S. in forestry and a major in wildlife management. An avid UGA fan, many Saturdays were spent in Athens watching his Bulldogs play.
Sam was retired after 40 years from the S.C. Department of Natural Resources, where he served as regional biologist for the Upstate. His career with DNR started in Union County, and in 1965 he transferred to Pickens County, where he became the first biologist on the Mountain Hunt Unit. One of his most notable achievements was helping the state acquire the property now known as Jocassee Gorges. He was a longtime member of St. Michael's Episcopal Church in Easley, where he formerly served on the vestry and as junior warden.
Survivors include his wife of 59 years, Tunkie Stokes of the home; his son, Sammy Watson Stokes Jr. and his wife Shari Porter Stokes of Darlington and two granddaughters, Molly McHugh Stokes of Darlington and Mary Frances Stokes of Kennesaw, Ga. Also surviving are nephews, David Houston and Dan E. Stokes.
In addition to his parents, Sam was preceded in death by his brother, Jacob Earle Stokes Jr. and his sister, Pat Stokes Houston.
A memorial service was held on June 27 at St. Michael's Episcopal Church, with the Rev. Lee Dudley officiating. Inurnment will be at a later date in the columbarium at St. Michael's.
Memorials may be made to St. Michael's Episcopal Church Building Fund, 1200 Powdersville Road, Easley, SC 29642 or to Cannon Hospital Foundation, 123 WG Acker Drive, Pickens, SC 29671.
SHIRLEY BEARD
PICKENS — Shirley Blanche West Beard, 64, passed away on Sunday, June 23, 2019, at her home.
Born in Travelers Rest on Aug. 29, 1954, she was the daughter of James A. Fowler Jr. and Ruth Thompkins Chavis and her adopted father, Phillip Lloyd West Sr. Shirley graduated from Greenville Technical College with an associate degree. She was a retired registered nurse for St. Francis Hospital. Shirley enjoyed scrapbooking and traveling and was a member of the Kingdom Hall West Congregation of Easley.
Surviving are her son, Shawn DeFilio (Jennifer); brother, David Henry West; seven grandchildren, Tequila, Tyler, Ralph and Jade DeFilio, and Nicole, Alyssa and Catie Tebeau; two great-grandchildren, Jeremiah Snoddy and Max Wheeler; and several loving nieces and nephews. She was also predeceased by two siblings, Phillip Lloyd West and Rose Marie West.
Funeral services were held on June 29 at Hillcrest Memorial Park Mausoleum, with Alex Kristovic officiating.
In lieu of flowers, please make memorials to the Worldwide Witness Work of Jehovah Witness.
GARVIN HAMPTON DURHAM
PICKENS — Garvin Hampton Durham, 83, passed away on Tuesday, June 25, 2019. Born on Feb. 7, 1936, in Pickens County, he was the son of the late Waco and Dorthula Bearden Durham.
Garvin was an avid outdoorsman who loved fishing and hunting. His favorite pastime was working with wood, as he loved to carve things such as small gifts for children and walking sticks. He and his grandson created and ran the company Twisted Trail Sticks. He was a member at Gap Hill Church of God for more than 60 years. He was predeceased by one sister, Doris Ellenburg.
He is survived by his wife of 62 years, Myremn Durham; one daughter, Lisa D. Trotter (Teddy); three grandchildren, Lynzie Kelley (Chris), Tyler Trotter (Heather) and Lexie Trotter; one great-grandchild, Kenlie Rae Trotter; and five sisters, Ruby Knight, Debra Bryant, Barbara Ann Stone, Brenda Hooper (James) and Yvonne Lomax (Dane).
A funeral service was held on June 29 in the chapel at Dillard Funeral Home with Rev. Johnny Hodges, Rev. Jimmy Perdue and Rev. Bobby Duncan officiating. Burial followed at Hillcrest Memorial Park.
Flowers may be sent, or memorials may be made to Gap Hill Church of God in Six Mile.
JOHN DENNIS JENKINS
PICKENS — John Dennis Jenkins, 63, passed away on Tuesday, June 18, 2019.
He was a one-of-kind, respectful and honest man, born to the late George and Lucille Jenkins. He earned a master's degree from Furman University and was a master electrician.
John, the "gentle giant," loved bowling and was very good at it. If you needed a tire changed on your car, he could lift it off the ground without using a jack. He attended Maranatha Baptist Church and was a prayer warrior.
He is survived by the love of his life, Kelly Anders; six children, Mitzi Ramsey, Amanda Montelongo, Brook Harris, Billy Alexander, Angela Roland and Rhonda Roland; four grandchildren, Hannah, Delano, Cooper and JJ; one brother, Jack Jenkins; and three special friends, Jim, Janice and Newman.
He also fostered many more children and was fond of the girls at United Community Bank in Easley, and the people at the Corner Drugstore.
A graveside service was held on June 22 at Hillcrest Memorial Park.
Donations may be made to Maranatha Baptist Church in Easley. Online condolences may be sent online to dillardfunerals.com.