32nd annual Azalea Fest coming up this weekend
PICKENS — "When the Azaleas are blooming in Pickens, South Carolina, the little town celebrates!"
For 32 years Pickens has celebrated spring by throwing an arts and entertainment based and family friendly celebration — the Pickens Azalea Festival.  Each April, the Azaleas bloom, artisans and crafters come out, and the community joins together to celebrate spring in the city of Pickens. Celebrate is exactly what they do! Presented by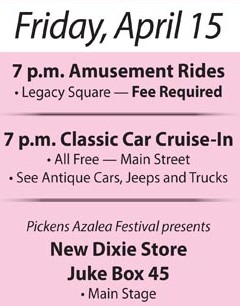 the Pickens Azalea Festival Committee and hosted by area nonprofit and civic organizations, the Pickens Azalea Festival boasts the largest gathering of crafters, artisans, and entertainers in the county, and quite possibly the Golden Corner!
The Azalea Festival is also somewhat of large family reunion, giving people who have been away too long, the chance to return and to visit with old friends and family. The streets are filled with local artists and crafters, exciting and varied food vendors, and quaint little shops and eateries.
Strolling downtown Pickens during the festival is certainly an exciting and fun filled activity.
The festival gives those who have never visited and opportunity to experience this great area during one of the best times to explore and experience all Pickens County has to offer!
National, regional, and local musical artists entertain while local artisans and crafters inspire. Foodies will enjoy

regional favorites and the kids will laugh as they partake in the children's ride area and free children's creation area. Come browse on of the largest cruise-in in the area and enjoy all that Pickens has to offer! For those who are interested in more physical activity, the annual Pickens Women's Association 5k is held annually in conjunction with the Pickens Azalea Festival. History buffs will enjoy self-guided tours through historic Pickens or hop a shuttle or enjoy a short drive to the many historic places in and around Pickens County. There is something for everyone to enjoy each spring at the Pickens Azalea Festival!
Information:
Saturday shuttles:
Hagood Mill (free)
Time — 11 a.m.- 4 p.m.
Pick-up/Drop-off Location — Ann St./Main St.
Parking
Time — 11 a.m.-7 p.m. (free)
Additional parking at Pickens High School on U.S. Highway 178 north of Pickens.
Pick-up/Drop-off at festival — Ann St./Main St. and PHS
Shuttles provided by Grace Methodist Church and Bowers Transportation
Traffic changes:
Wednesday, April 13
Legacy Square will be closed to regular parking after First Baptist Church services.
Thursday, April 14
After 5 p.m., Court Street just past Dr. Spearman's office next to the Pickens County Courthouse to Cedar Rock Street will be closed to regular traffic so the main stage can be set up.
Friday, April 15
At 5:30 p.m., eastbound traffic on West Main will be detoured beginning at the intersection of West Main & Catherine Street.
At 6 p.m., Hwy 8 and 183 intersection (near McDonalds), all of East & West Main, East Lewis, South Lewis, Pendleton St, hwy 178 intersections, Ann St, Garvin St. to intersection of Catherine St. will close down to regular vehicle street traffic. There will be traffic detours on Ann St. The above streets will remain closed to regular vehicle traffic until midninght Saturday night. All streets will re-open to regular traffic at midnight Saturday. The closings were approved by the City of Pickens and Pickens Police Department.
Restrooms and booth information:
Restrooms are located in the amusement area of Legacy Square, beside the Bank of America building (parking lot, front), behind the main stage next to the courthouse on Court Street and West Main St. in the old furniture store parking lot near the amphitheater. The information booth is located in front of the courthouse.
Tours available:
Hagood Mill
(Free Tours)
One of the finest regional examples of 19th century technology can be found just three miles north of Pickens. Located just off Highway 178, at 138 Hagood Mill Road, this 1845 gristmill served many generations of rural farm families until its closing in the mid-1960s.
Hagood Mill operated during the War Between the States; The Spanish / American War; World War I; World War II; The Korean War and part of the Vietnam War. In the 1960s, the federal government passed regulations requiring the farmers' corn to be tested before grinding, and also, requiring preservatives. This effectively shut down most of the gristmills nationwide and Pickens County was no exception.
In 1972 Hagood Mill was placed on the National Register of Historic Places and in 1973 the mill and surrounding property were donated to the Pickens County Museum Commission by the James Hagood Bruce family (descendants of James Hagood who built the mill in 1845 at the age of 19).
Also in the early 1970s, South Carolina was one of the states that made an exemption for water-powered gristmills to operate. Thus began a long off-again, on-again process of restoration by the County of Pickens, culminating with the mill being "back in business" on a monthly basis around Thanksgiving 1996 with the help of Alan Warner, who served as miller until 2009.
Warner, a mill historian, has documented more than 60 gristmill sites in Pickens County…almost all of which are now gone.
The mill be in operation during the Azalea Festival from 10 a.m.-4 p.m.
Hagood-Mauldin House
(Tour Fee Required)
The Hagood-Mauldin House, owned and maintained by the Pickens County Historical Society, it was moved from Pickens Court House to the new town of Pickens in 1868.
It underwent two separate renovations, one by James Earle Hagood, and the second by Judge and Miss Queen Hagood Mauldin when the front porch was changed into Classical Style and the Judge's office was added.
The fine antique furnishings and art were added by Irma Morris. The historic house will be open for public tours during the Azalea Festival. The fee will be $5 for adults and $2 for students from 10 a.m.-4 p.m. Saturday.
Pickens County Museum of Art & History
(Free Tours)
The Pickens County Cultural Commission monitors operation of the Pickens County Museum of Art & History as a public, nonprofit educational institution whose purpose is to collect, preserve, exhibit and interpret the artifacts, antiquities and archival, cultural and natural history of the County and surrounding geographic region.
The cultural commission also provides cultural enrichment, intellectual stimulation, learning opportunities and appreciation of the visual and performing arts for the enjoyment of the County's citizenry and visitors.
The Museum Shop
Offering the work of more than 100 local and regional fine, traditional and folk artisans that represents the artistic spectrum of our unique area — including handcrafted jewelry, pottery, ceramics, baskets, scarves and handbags, woodcarvings, colorful prints and originals, Native American art, note cards, folk art, soaps, beeswax candles, locally harvested honey, handmade children's toys and other specialty items.
The Museum Shop features a wide array of CDs from local Upcountry musicians, and fascinating storytellers, early American and World music. We also offer a variety of educational and historical toys, as well as an assortment of books on local history and local interest for all ages.
The museum is located at 307 Johnson Street, across from Pickens City Hall. It will be open Saturday of the Azalea Festival from 9 a.m.-4:30 p.m.