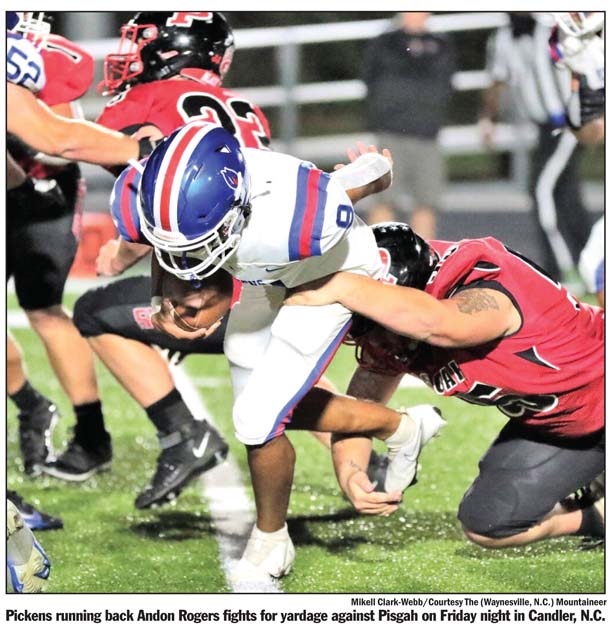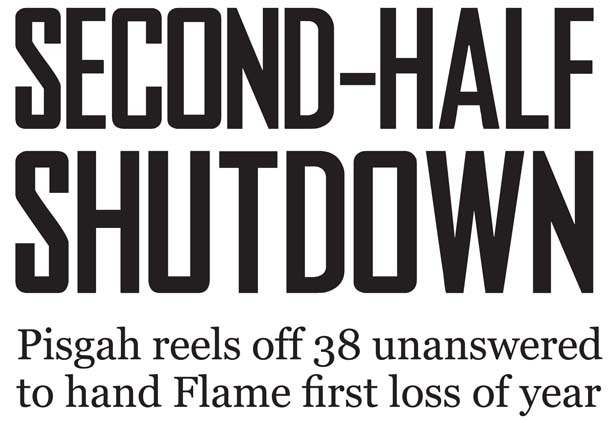 By Silas Albright
Courtesy The Mountaineer
news@thepccourier.com
CANDLER, N.C. — Early in the second quarter, Pickens held a 14-0 advantage over Pisgah, but the Blue Flame lost momentum and never managed to get it back, eventually falling 38-14 for their first loss of the season.

"I thought we came out strong," Pickens head coach Chad Smith said. "I thought Pisgah came out and did what Pisgah does. They're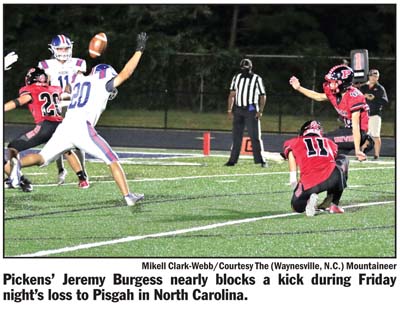 a good football team, and they punched us and it took us a little too long to respond."
Pisgah (3-0) head coach Brett Chappell said he was glad to be able to play the game against the out-of-state opponent and liked what he saw from the Blue Flame (2-1).
"Hats off to Pickens as well, good football team. I enjoy that coaching staff, too — a lot of respect for them," Chappell said. "Their kids played hard, they came right out of the gates and they certainly didn't back down."
In a game played at Enka High School in Candler, N.C., after recent flooding in Haywood County, Pickens senior defensive back Ziondre Clark capitalized on an early opportunity, scooping up a Pisgah fumble and taking it 38 yards to the house to give the Blue Flame a 7-0 lead at the 7:16 mark in the first quarter.
The Blue Flame defense forced a three-and-out on Pisgah's ensuing possession, setting their offense up at their own 24-yard line following the punt. From there, Pickens pieced together a nearly nine-minute scoring drive thanks to a couple of big fourth-down conversions.
On a fourth and three from the Pickens 41, senior quarterback Ryan Ford connected with junior wideout Jaden Jackson for a gain of 11 and a fresh set of downs. Three plays later, Ford faked a handoff but kept it himself and took it up the middle for 15 yards to set the Blue Flame up at the 33-yard line.
By the time the first quarter ended, Pickens was facing a first and goal from the 8. Pisgah's defense buckled down and stopped the Blue Flame inches short of the goal line to bring up a key fourth down, but Pickens senior fullback Brennan Perkins forced his way into the end zone for the touchdown. Sophomore kicker Hunter Smith nailed his second extra point of the game to give the Blue Flame a 14-0 lead with just less than nine minutes left in the first half.
Smith said Perkins left the game right before halftime due to injury and did not return.
"When 15 went out, it changed the game dramatically," Smith said.
From there, the momentum began to shift. Pisgah senior running back Ian Rogers broke free for a 39-yard score at the 7:34 mark of the second quarter to cut the Bears' deficit in half.
On the Blue Flame's next possession, Ford hooked up with junior tight end C.J. Hooper for a nice gain across midfield. But Pisgah's Logan Free swooped in and ripped the ball from Hooper's arms for a forced fumble and recovery.
Free, also Pisgah's quarterback, finished the drive he started with a three-yard touchdown run to even the score at 14-14 with 1:34 left in the first half.
The Blue Flame offense put together a quick drive highlighted by a 20-yard run from Ford and had a first and 10 from the Pisgah 16 with 7.3 seconds left in the half. Pickens took two shots at the end zone, but both passes fell incomplete and the teams headed to the locker room knotted up.
On Pisgah's first play from scrimmage in the second half, Free got loose for a 62-yard touchdown run to put his team up 21-14. The Black Bears never looked back.
Pickens opted to leave its offense on the field on a fourth and 11 from its own 45 and came up short. Rogers promptly took the first play of that Pisgah drive 45 yards for a touchdown, increasing the Bears' lead to 28-14 at the 7:39 mark of the third quarter.
On its ensuing drive, Pickens faced a fourth and five from its own 40, and the pass fell incomplete. But the Blue Flame defense kept the Bears out of the end zone and forced them to settle for a 24-yard field goal. A Pickens rusher put pressure on Pisgah kicker Luke Pinkston, but the senior made the kick to push his team's lead to 31-14.
Pickens managed to drive inside Pisgah's red zone twice in the fourth quarter, but fell short on a fourth down and then had a pass picked off in the end zone by Free. Bears junior running back Dez Rodriguez scored on a 93-yard run with 2:32 left to play, and Pisgah went on to win 38-14.
"Give Pisgah all the credit in the world," Smith said. "Coach Chappell does an amazing job with these guys. In my opinion, he's one of the best coaches in either Carolina."
The Blue Flame offense was led by senior running back Andon Rogers, who rushed 24 times for 129 yards. Ford finished with 78 yards on 16 carries and 72 yards through the air on 6-of-15 passing. Perkins picked up 32 yards on nine carries before the injury, and freshman running back Carter McCollum added 38 yards on six carries. Jackson caught five passes for 43 yards. Pickens gained 349 yards of total offense to Pisgah's 378.
"We left some points on the board inside the 20, but it is what it is — we'll grow from it," Smith said. "You either win or you learn, so we learned something about ourselves tonight."
This Friday, the Blue Flame are set to travel to J.L Mann for a 7:30 p.m. kickoff.