After ACC title, Tigers advance to playoff again
By Alex Maminakis
Courtesy The Journal
alex@upstatetoday.com
ORLANDO, Fla. — The Clemson Tigers are ACC Champions for the second straight year, and College Football Playoff-bound once again.
Clemson defeated Virginia Tech 42-35 on Saturday night at Camping World Stadium for the conference crown — the first time in 28 years that the Tigers (12-1, 7-1 ACC) have won back-to-back conference championships. And, like last year against North Carolina, Saturday's conference title didn't come easy.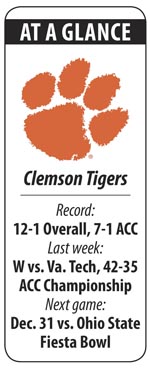 The Hokies (9-4, 6-2) continued to answer the bell, keeping pace with Clemson's offense after going down 14-0 early, but they could never close the gap. Virginia Tech came closest with 1:11 left in the game and the ball on Clemson's 23-yard line, but Jerod Evans threw an interception to Cordrea Tankersley on fourth and six.
One more first-down run by Deshaun Watson, who was named the game's MVP, sealed the victory.
"This is special," Clemson coach Dabo Swinney said after the win. "They're all special — every one of them has kind of its own story, its own journey — but this one here, back-to-back, 28 years, there's a reason why it's been that long, it's hard to do. These guys set out to do that at the beginning of the year, and they were all brought here for this moment."
Watson finished 23-of-34 passing for 288 yards, three passing touchdowns, 89 rushing yards and two rushing touchdowns. Eight different Clemson receivers caught a pass from Watson, led by Artavis Scott with seven catches for 48 yards, Jordan Leggett with four catches — two for touchdowns — and 49 yards, and Deon Cain with two catches for a team-high 69 yards.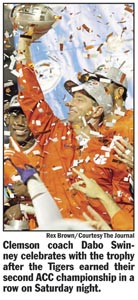 With Heisman favorite Lamar Jackson in attendance, Watson made his own final push for the award. After the win, Swinney made his case for his quarterback.
"This guy right here (Watson) is the best player in the country, and it ain't close," Swinney said. "I've seen it the last two years, and proof's in the pudding — we're 12-1 this year, 13-0 last year in our regular seasons — there's just nobody better, and he was on display tonight."
Two of Watson's biggest throws came with the Tigers up 35-28 in the fourth quarter — a 31-yard completion to Hunter Renfrow on second and 19 from his own 16-yard line, followed by a 30-yard completion to Cain on third and 14 later on the same drive. Renfrow scored a touchdown to cap off the drive, giving Clemson 42 points.
"I always tell my receivers, whether we have man or any situation, I'm gonna give y'all guys a shot, y'all go be special and make the play," Watson said. "Really, it's an honor, it's a blessing to have those guys on my team and to make me look good."
With the conference title and a 12-1 season, the Tigers are poised to head back to the College Football Playoff and make another run at the national championship that slipped through their fingers last year. A Dec. 31 Fiesta Bowl showdown against third-seeded Ohio State is all that stands between second-seeded Clemson and the College Football Playoff National Championship game against the winner of No. 1 Alabama and No. 4 Washingto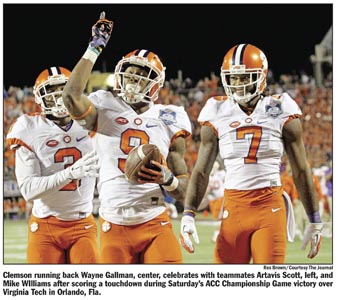 n in the Peach Bowl.
This week, though, the Tigers w
ill sav
or Saturday's win, another big one for their program.
"Both were pretty sweet," Watson said of Clemson's back-to-back conference titles, "but I think this one was just a little bit sweeter."