ALL ABOARD FOR FUN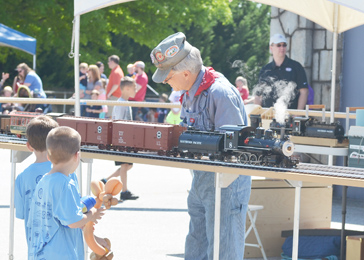 Miniature trains pulled by "live steam" locomotives are among the attractions at the Central Railroad Festival, which will be held April 25 in historic downtown Central. The family-friendly festival will also feature music, activities for kids, food and train rides.
Central Railroad Festival
planned for  this Saturday
CENTRAL — The Central Railroad Festival will pull into historic downtown Central on Saturday,
April 25, with music, great food and festivities for all ages.
The Railroad Festival celebrates the rich heritage of Central, so named because the town is situated at the "central" point of the railroad line between Atlanta and Charlotte.
Festival day will kick off with the "Keep it Movin'" 5k race, starting 8:30 a.m. at West Main and Bank streets at downtown Central. The race supports the Keep it Movin' run/walk program at Central Elementary, which gives all students the opportunity to walk or run before the start of school along with earning incentives.
The festival begins at 10 a.m. and runs until 5 p.m., featuring entertainment, food, music and arts and crafts vendors.
There will be free entertainment for all ages, including a Home Depot Kids Workshop, and Ronald McDonald will make an appearance. Open for free tours will be the Central Railway Museum, which features a large HO-scale model railroad layout complete with cities, towns and features found in the region more than a half century ago. The museum also houses a Heritage Room, featuring classic model trains popular in the mid – 20th Century. There will also be a tour of the Central red caboose and a miniature live steam train layout.
Central restaurants will be open on the day of the festival, offering options of Italian, Mexican, Oriental and seafood. Street vendors will also cater to a variety of tastes, offering pizza, hot dogs, barbecue, nachos, corn dogs, hamburgers, sandwiches, funnel cakes, chicken wings, Italian ice, kettle corn, fried Oreos, boiled peanuts and more treats.
Clemson Area Transit buses will run continuously, taking festival-goers from parking areas.
Admission to the festival is free, and convenient parking is available.
The Central Railroad Festival is sponsored by the Central Area Business Council and the Clemson Area Chamber of Commerce. The festival is supported by the Town of Central and the Central Railway Museum.
The Central Railroad Festival is privileged to coincide with another great local event, Clemson Blues Fest. Following the festival, visitors are invited to stick around for the final concert of Clemson Blues Fest featuring Ceasar, performing "Some Blues, a little bit of Rock n' Roll and a whole lot of Creole Soul."
For festival details, call (864) 654-1200 or visit the Central Railroad Festival website at www.centralrrfestival.com. For details about the "Keep it Movin'" 5k race, contact Paige Bowers at Central Elementary at (864) 710-0849. For details about Clemson Blues Fest, go to their website at clemsonbluesfest.org.