An appreciation for the classics
John Thomas Childress Jr., better known simply as Chill, was born at home in Pumpkintown on March 14, 1939. Doctor Tripp from Easley delivered him.
Chill attended Maynard Elementary School and graduated from Dacusville High School in 1957.
He went to work at Union Bleachery Mill on Sept. 8, 1955, at the age of 16. He was still in school, so he worked on the second shift. He worked there until the plant burned down Nov. 7, 2003. His first job there was inspecting cloth. He was later transferred to do maintenance. He continued to work on the second shift.
Chill has always had the talent and the knowledge to work on automobiles and tractors. From early childhood, he has been interested in cars. He is a person who can repair almost anything.
He said he owned a 1936 Ford automobile when he was 13 years old. He earned the money to buy the car by plowing the field one summer for John Finley. He was paid $2 a day. He also worked for Roy Finley at the dairy farm in Dacusville.
Carol Baker/Courier
John Thomas "Chill" Childress' first car was a 1936 Ford he bought when he was 13 years old. He now owns a handful of antique cars and 13 antique tractors.
The Ford Chill bought would not run, but even at the age of 13, he repaired the engine. He said he drove the car some, but had to wait until he was 14 years old to get his driver's license.
In 1961, Chill built a small garage in Dacusville near his parents' house and started working on cars. He had a larger garage built in 1988. He said he never named the garage or advertised it, but he has always had a good business. He worked on cars in the mornings before going to his job at the Union Bleachery,
Chill was drafted into the Army in December 1961. He took basic training at Fort Jackson, S.C., and was transferred to Fort Leonard Wood Base in Missouri. From there he was sent to Frankfurt, Germany, where he was in combat engineering.
While Chill was stationed in Frankfurt, his cousin, Ramona Childress Bolderson, was working in Wiesbaden, Germany, about 26 miles from Frankfurt. She was working for the Peace Corps, teaching school. She drove to Frankfurt to see Chill off the day he left Germany to come back to the United States on Nov. 22, 1963. He said he remembers that date because it was the day President John F. Kennedy was assassinated. Chill served in the Army for two years and was discharged with the rank of E4.
Chill met his wife, Betty Seay, at Pete's Café on Main Street in Easley. They were married March 20, 1965. They have one daughter, Karen Enderle, who lives in Bedford, Pa. They also have one grandson and one granddaughter. Chill and Betty were married for 50 years. Betty died Jan. 14, 2015.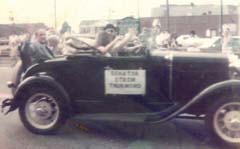 In July 1976, Chill drove his 1930 Model A Roadster in the bicentennial parade in Easley. Strom Thurmond and his wife, daughter and son were seated in the rumble seat. Strom's secretary rode in the front seat with Chill.
Courtesy Chill Childress
Sen. Strom Thurmond and his family rode in the rumble seat of Chill Childress' 1930 Model A Roadster in the 1976 bicentennial parade in Easley.
Chill has a pet dog that just showed up at his house about five years ago. He said he named the dog Lucky because it was lucky to have found a home.
Chill owns five antique cars and 13 antique tractors. He said he has no intention of ever selling them. He used to own motorcycles, and he regrets that he sold them.
He used to participate in antique tractor pulls at Robinson Field in Dacusville. He won numerous times. He still has all the trophies that he was awarded on display that. He also enjoys going to car shows and cruise-ins.
Chill said he doesn't do as much work in his garage now as he used to, but he enjoys being there. Every morning of the week a group of men come by the garage to hang out and catch up on the latest news. They are all good friends.
Easley resident Carol Baker highlights interesting local residents and helps us get to know more about the fascinating people who call Pickens County home. If you have someone somewhere who you think people should know about, contact us at news@thepccourier.com.