An award-making family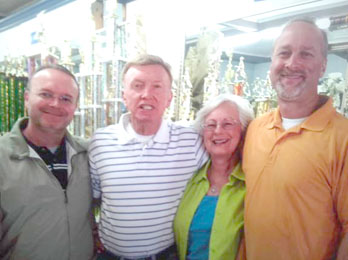 Courtesy Photo
The Jones family is pictured in the showroom of Trophies Unlimited in downtown Easley.
By Steve Lorch
For The Courier
slorch@thepccourier.com
EASLEY — Meet the Joneses.
Bill, Sherri, Rusty, and Scott are the friendly faces of Trophies Unlimited in downtown Easley. The store has been a family affair since grandmother Janice Ellenburg first opened its doors in 1981.
Set in the heart of Easley's historic downtown, Trophies Unlimited began as a natural extension of a sporting goods store.
"Mom and dad were running Sam Wyche Sportsworld for many years," Rusty said. "People would come in to buy shoes and gear, but they would also ask if they could buy trophies to honor their teams and players."
As demand for the award side of the business grew, it seemed a logical step to make it a solo enterprise. The business has been expanding ever since.
"We consider ourselves award specialists," Rusty said. "We're not just trophies. In fact, employee awards programs, signage and engravings are the biggest part of our business."
Trophies Unlimited caters to everyone — from the small neighborhood baseball team to the large corporation looking to acknowledge the efforts of its staff.
"We take a personal approach to every order," Rusty explained. "Your needs and budget could be anywhere from a small plaque all the way up to Waterford crystal. Whatever it is, we'll work with you."
Most of the shop's services are done in-house, so wait time is minimal. And as far as engraving goes, the choices are almost, well, unlimited. Laser, diamond-point and sand-blasting options are all available.
"Crystal, metal, wood, acrylic — you name it, we do it," Rusty said.
Started in the Upstate, Trophies Unlimited plans on staying here well into the future.
"This is our home — has been since the beginning," he said. "Our goal is to keep expanding our services to meet the needs of our local customers."
If you're looking for a personal way to recognize your teammates or colleagues, give Trophies Unlimited a call at (864) 855-2808. The store is located at 105 South Pendleton St. in Easley. Hours are 9 a.m.-5:30 p.m. Monday through Thursday and 9 a.m.-1 p.m. on Friday. You can also visit online at www.trophiesunlimitedeasley.com.
If you know a local small business that would like to be featured in this column, please contact slorch@thepccourier.com