'An Historic Gift'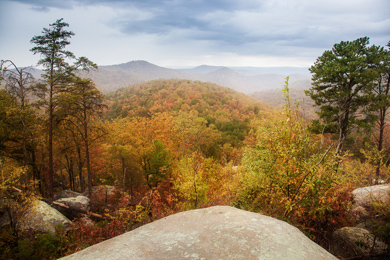 Upstate conservation groups join
to protect Nine Times Forest
Naturaland Trust, Upstate Forever purchase 1,648 acres
COUNTY — Naturaland Trust and Upstate Forever have succeeded in protecting one of South Carolina's most special places — the 1,648-acre Nine Times Forest in Pickens County.
An ecological jewel, the property contains three mountains of stunning granite outcroppings as well as streams, creeks and stands of hardwoods. Located in close proximity to Jocassee Gorges, the tract also provides exceptional habitat for bear and other wildlife.
Last year, Naturaland Trust and Upstate Forever negotiated an option to purchase the property from the owner, Crescent Communities, at a price of $3,543,780 and then began seeking public and private support for the project.
The funding came together from four major sources. First, Naturaland Trust was selected to receive a grant from the U.S. Forest Service. The grant was awarded under the Community Forest and Open Space Conservation Program in a highly competitive process. Only 10 grants were awarded nationwide, and Naturaland Trust and Upstate Forever's grant was one of only two in the Southeast.
Next, Fred and Alice Stanback, North Carolina conservationists who have been key supporters of efforts to protect important places in the South Carolina Blue Ridge, including Stumphouse Mountain, made a generous donation in honor of conservation visionary and founder of Naturaland Trust, Tommy Wyche.
"Our contribution not only helps protect the Nine Times property but also honors Tommy Wyche for his 40 years of providing vision and leadership in protecting tens of thousands of acres in the Blue Ridge Mountains along the North Carolina-South Carolina state line," Fred Stanback said.
In addition, Naturaland Trust and Upstate Forever reactivated a five-year-old grant application with the South Carolina Conservation Bank. The bank's board unanimously approved a $1.5 million grant for the property, payable in two installments.
During this time, Duke Energy was negotiating the terms and conditions to be proposed for a new license for its Keowee-Toxaway Hydroelectric Project. As one of the conditions, Duke Energy recently provided $1,044,000 for the purchase of the Nine Times Forest.
"We're thrilled to support the preservation of this spectacular land," said Steve Jester, Duke Energy's vice president of water strategy, hydro licensing and lake services. "Our objective throughout the relicensing process was to understand the community's priorities and find ways to support them. This is a fine example of how stakeholder partnerships can result in benefits that will be enjoyed for generations."
The closing occurred just before the holidays, and Naturaland Trust is now the owner of the property.
Open Space Institute (OSI) is providing a bridge loan to Naturaland Trust until all of the funding comes in from the other three sources. This is the second loan from OSI to Naturaland Trust in the past two years. The first helped secure nearly 300 acres along the Cherokee Foothills National Scenic Highway.
"We are thrilled to partner with Naturaland Trust again to protect the resources of this special area of the Upstate," OSI vice president Nate Berry said.
"The acquisition of the Nine Times Forest is an historic gift to the Upstate of South Carolina and the protection of our Blue Ridge Mountains," Naturaland Trust president Frank Holleman said. "These 1,648 acres contain three mountains, beautiful mountain streams and forest expanses. We now have protected 2,300 acres of connected forest, forever."
The Nine Times Forest is one of the largest intact unprotected forests left in the Upstate. Several years ago, about 560 acres were protected through a broad-based effort, in which The Nature Conservancy, Naturaland Trust and Upstate Forever actively participated. That tract is now owned and managed by The Nature Conservancy. The Nine Times Forest adjoins The Nature Conservancy's preserve. In 2012, Naturaland Trust acquired more than 100 acres adjoining Nine Times Forest, providing an even larger natural area.
"This is a spectacular achievement for conservation in South Carolina, and an amazing team of public and private partners made it happen," Upstate Forever executive director Brad Wyche said. "We were honored to be on the team."
Naturaland Trust and its partners are now working on a management plan for the Nine Times Forest that will include sustainable forestry and passive recreational opportunities for the public. The property will be returned to the South Carolina Wildlife Management program for public hunting.