'An Upcountry Boil' set for Pickens County Museum on November 8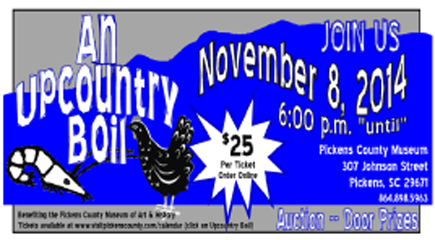 PICKENS — The Pickens County Museum of Art and History and the Pickens County Cultural Commission will host "An Upcountry Boil," a good-time fundraising event, on Saturday, Nov. 8, from 6-9 p.m.
The event will include a silent auction along with a pick-a-prize featuring creative creations, exciting getaways and an array of gifts from regional businesses.
The after-hours, family friendly, event brings art, music and history lovers together for one night to celebrate in the comforting environment of the Pickens County Museum. Entertainment for the evening will be provided by "Heartstrings," a roots, gospel and bluegrass ensemble performing a variety of traditional music.
On view at the museum on the evening of the event will be a final opportunity to see the exhibitions, "Polly Gaillard: Framing Family" and "A World of Readers," featuring selections from the Thomas Johnson Collection, as well as the Pickens County Heritage Collection and a very special exhibit, "World War I — A Centennial Remembrance."
The evening will begin at 6 p.m. in the Lavonne Nalley Piper Auditorium with shrimp and grits or special "Upcountry Boils," including both vegetarian and meat-lovers options. Attendees are encouraged to wear their favorite art-inspired fall fashion attire.
All programming and exhibitions at the museum are funded by private donations from corporations, foundations and individuals, making this gala vital to the museum's success. The net proceeds from the fundraiser will support all of the museum's Art and History Programs, including exhibitions, displays, lectures, workshops, and more.
Officials are asking the business community to partner with the museum in an effort to continue bringing excellent art exhibitions and programs to the area. For more information about sponsorship opportunities, call (864) 898-5964.
Tickets for the fun-filled evening are available in advance at $25 per person ($10 for children 12 and under). A limited number of tickets is available, so act now to reserve your admission. Go to visitpickenscounty.com/event/1120/an-upcountry-boil-fundraising-event-at-pickens-county-museum, where you may register and pay for your admission online.
You may also register in person or by calling the Pickens County Museum at (864) 898-5963. Registration may be paid by cash, check or charge with your Visa, MasterCard, Discover or American Express.