Anderson Man charged in Clemson area burglary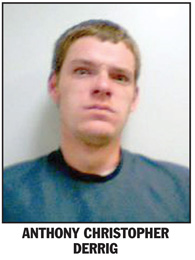 CLEMSON — An Anderson man was arrested Wednesday, October 23 by the Clemson City Police Department and charged with burglary, second degree as well as possession of marijuana, possession of burglary tools and malicious damage to real property.
Anthony Christopher Derrig, 20, was arrested and charged.
According to a release by the Clemson Police Department at approximately 10:30 p.m. the police received a call saying that an individual had been spotted inside a closed business. Officers arrived to find the single window pane of the back door broken out and the door open.
A search of the business found a white male inside the business behind the counter.
Police say the person behind the counter was using a knife in an effort to pry open the register drawer. The man was taken into custody without incident. Items from the business were found in his clothing pockets.
Derrig is currently being held at the Clemson City jail, awaiting a bond hearing.