Annual Papa John Foster music festival set for May 7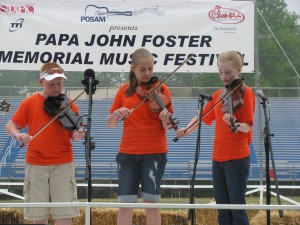 PICKENS — Young Appalachian Musicians from Pickens County schools will perform, along with an all-star cast of bluegrass pickers, at the fourth annual Papa John Foster Memorial Music Festival Saturday, May 7 at Hagood Mill near Pickens.
The festival is a benefit for the Young Appalachian Musicians (YAM) program, which teaches traditional Southern Appalachian music to Pickens County students in the third through eighth grades.
The festival, a fun-filled family event that will feature a variety of food concessions, will begin at 10:30 a.m. and last until 7 p.m. at Hagood Mill north of Pickens on U.S. 178. Tickets are $10 for adults 18 and over, $5 for youth under 18, and free for children 5 and under. Tickets are available at any YAM school or by calling (864) 878-4257 or e-mailing mcdanibw@bellsouth.net.
Attendees are asked to bring their own chairs and blankets, and no alcoholic beverages are allowed.
Scheduled to be at the festival are Larry Jefferson and Headin' South, Pine Top Revival, Different Strokes, Four Mule Pileup, Long Mountain Ramblers and Last Road. Also playing will be the Pickens High School Bluegrass Band, Sweet Potato Pie Kids and Young Appalachian Musicians from member schools, which are Holly Springs Elementary, A.R. Lewis Elementary, Ambler Elementary, Ben Hagood Elementary, Pickens Elementary, Liberty Elementary and Pickens Middle.
Like the popular YAM program, the music festival is sponsored by Preserving Our Southern Appalachian Music Inc. (POSAM), a charitable non-profit organization, and all contributions are tax deductible. To join the booster club YESIYAM, or otherwise contribute to the program, donations may be sent to: POSAM, c/o Betty McDaniel, 792 Holly Springs School Road, Pickens, SC 29671. For further information, call Betty McDaniel at (864) 878-4257 or e-mail mcdanibw@bellsouth.net.