Arrest made in bank robbery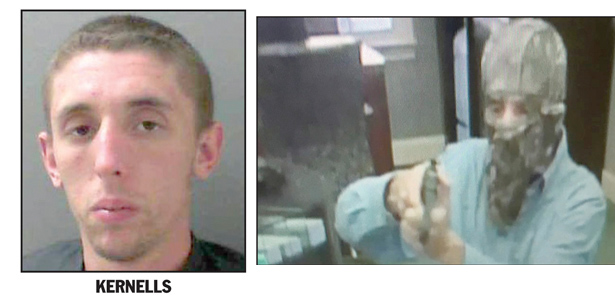 By Jason Evans
Staff Reporter
jevans@thepccourier.com
EASLEY — A man has been charged in connection with a bank robbery in Easley Thursday afternoon.
Justin Lamar Kernells, of Jameson Road in Easley, is charged with entering a bank to steal and possession of a weapon during the commission of a violent crime.
According to a news release from the Easley Police Department, a white man entered the TD Bank on Calhoun Memorial Highway Thursday afternoon.
The man presented a handgun and demanded money, the release said.
He left the bank on foot, carrying an undisclosed amount of money, entering the woods behind Rock Springs Baptist Church. He was described as wearing a blue shirt and khaki shorts. He wore a camouflage head cover during the robbery.
Officers were in the area within minutes of the robbery and began looking for the suspect, the release said.
Photos of the suspect taken from security camera footage were released to the public.
Shortly afterward, a person found on the Rock Springs Church property was detained as a person of interest, the release said.
All property taken from the bank has been recovered.
Kernells was being held Tuesday at the Pickens County Detention Center on a total $60,000 surety bond.