Arrests made in Liberty burglary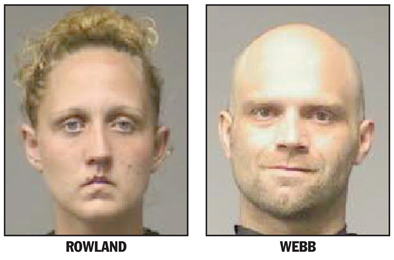 LIBERTY — Two people were arrested last week and charged in connection with the burglary of an elderly couple's home and theft of a truck in Liberty.
Cammie Sue Elizabeth Rowland, 26, of 100 Cleveland St. in Easley, and Jesse Wayne[cointent_lockedcontent] Webb, 29, of 401 Arial St. in Easley, were charged as a result of the investigation.
According to a Liberty Police Department incident report, an officer responded to a home on Calhoun Street on July 24 in reference to a burglary.
An 80-year-old man who lives in the home told the officer someone had broken into his home the previous night as he and his wife slept by forcing open the back door, which was secured with nails and a metal pipe. The burglar or burglars then went into the living room and removed two medicine bags and a Bible case, according to the report, taking the items to the enclosed back porch and placing them on top of a freezer.
The suspects did not take any medicine out of the bags, but did leave behind a cellphone in the Bible case that did not belong to the victim, the report said.
The home's resident told police his keys, wallet and cellphone were missing from the living room.
The man told the officer his pickup truck was stolen as well.
According to Liberty police chief Adam Gilstrap, investigators later obtained video of Rowland using the victim's bank card at two different locations.
Gilstrap also said the victim's truck was later found at a home on Adger Road in Easley, where Cody Wayne Reece, 22, was charged with possession of the stolen vehicle.
Rowland, who was arrested last Thursday, is charged with first-degree burglary, second-degree burglary, grand larceny, petit larceny and two counts of financial transaction card fraud. She was being held Tuesday at the Pickens County Detention Center on a combined $72,000 surety bond.
Webb, who was arrested last Wednesday, faces charges of first-degree burglary, second-degree burglary, grand larceny and petit larceny. He was being held Tuesday on a combined $92,000 surety bond.
Reece, of 101 W. Oakland Road in Easley, was arrested on July 28 and faces unrelated charges of distribution of methamphetamine, financial transaction card fraud and grand larceny in addition to the receiving stolen goods charge. He was being held Tuesday on a combined $40,000 surety bond.[/cointent_lockedcontent]