Aunt Samantha Bumgarner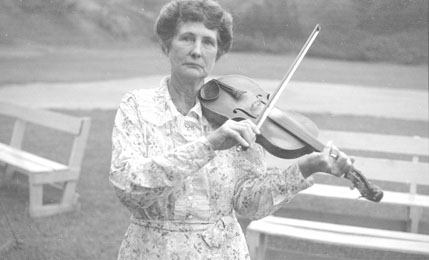 Pioneer in Southern Appalachian Music
Jackson County, N.C., native was predecessor to YAMs
By Dr. Tom Cloer, Jr  –  Special to the Courier
We who are fortunate enough to live at the Blue Wall of the Blue Ridge Escarpment, where the Appalachian Mountains begin, have a rich musical heritage.
We residents of Pickens County are especially pleased and happy to have people who are interested in preserving these rich musical traditions. This heritage is so important to understanding who we are and from whence we came. These adult musical leaders have truly discovered the ticket to preserving the tradition, through the Young Appalachian Musicians (YAM) program.
The leaders of YAM here in Pickens County started a small snowball that has now grown to boxcar-size. We now have the luscious pleasure of hearing primary-school-age to young adults, females and males, play their Appalachian instruments in many different venues, including last weekend at the inaugural concert at the city of Pickens' brand new amphitheater.
These Young Appalachian Musicians use their natural talents and play by ear, the same way Samantha Bumgarner did when she broke the barrier that kept young ladies from the fiddle and banjo.
My maternal great-great-grandfather, Daniel Van Buren Moody, whose father and grandfather owned land in the Pickens District, moved to our neighboring county, Jackson County, N.C., before the Civil War. Jackson County at that time bordered the Pickens District. There in the Tuckasegee Valley, above Sylva, my great-grandfather and grandfather lived and died. After my grandfather died, my grandmother, Bonnie Moody, married and widowed two Baumgarners. Thus, my family was connected directly to Jackson County Baumgarners. The records sometime appear as "Baumgarner," and sometimes "Bumgarner," without an "a" in the first syllable.
Carson (Carse) Bumgarner of Jackson County married one of the most interesting and creative women of our Blue Ridge Mountains. Her name was Samantha Biddix Bumgarner. The father of Carse Bumgarner, Henry F. Bumgarner, served in the 62nd North Carolina Regiment of Colonel William Thomas in the Confederacy during the Civil War with my great-great-grandfather, Marcus Cloer. The leader of that regiment, Colonel William Thomas, was the white Cherokee Chief responsible for the establishment of the Eastern Band of the Cherokee Nation.
Early Years of a Pioneer in Appalachian Folk Music
Samantha Biddix was the daughter of Has and Sara Biddix of Sylva, N.C. Samantha was born in 1880. Her father, Has, was a very good fiddle player. From an early age, Samantha wanted to play the fiddle. However, the fiddle was viewed by many mountain people as "the devil's box," and Samantha's father would not allow his daughter to play a fiddle. The fiddle was a prominent instrument in the shindig dancing of the mountain communities. The term "shindig" was an old Scotch-Irish word for the type of dancing that could leave a shin with a bad scrape. There was also frequently a little "mountain dew" at such dances, another Scotch-Irish term for the powerful moonshine that could cloud a young man's inhibitions at such dances. My mom told me stories from the time I was a little boy about how my grandmother Bonnie Baumgarner forbade mother and her two sisters to get close to such a dance. Ironically, mom's brother, Fred Moody, was one of the best square dance callers of Jackson County.
Samantha, her father's hang-ups notwithstanding, would sneak Has' fiddle out when he was away and practice with it. Has could see that Samantha was really interested and talented in music, so he finally gave in and, instead of buying her a fiddle, made her a banjo out of a gourd and a cat hide. Has Biddix used a big gourd such as I have curing in the attic of my barn. He cut out a section of the gourd and stretched a cat hide over the hollow part to make a drum head, and then used waxed thread for the strings. Stretched hides for musical instruments date back to ancient Old Testament times.
Samantha was soon showing her father that she was indeed a promising musician by making rather fine music on such a bizarre contraption. Has eventually broke down and bought Samantha a real banjo, and she and her father together would entertain family and friends. That way, Has could keep an eye on his teenage daughter.
In 1902, Samantha Biddix married Carson Bumgarner, and Carse finally bought her a devil's box, her first fiddle. I remember mom saying that my grandmother Bonnie Baumgarner spoke frequently about Samantha and Carse Bumgarner.
Samantha was soon playing her fiddle with gusto. It was unthinkable in the mountains then for a woman to be on stage in the early 1900s, while being physically aggressive like a male with a fiddle and a banjo. Samantha Bumgarner broke that barrier.
Samantha entered a banjo contest at Canton, N.C., and won it. She was soon winning banjo and fiddling contests all over the country. To keep Samantha from a fiddle because it was used in shindig dancing made about as much sense as keeping her from a piano because it was the primary instrument in most saloons.
Aunt Samantha Bumgarner: Fiddling Ballad Woman Of the Mountains
When Samantha Bumgarner was about 30 years of age, someone called her Aunt Samantha Bumgarner, a moniker that would stick for the rest of her life. When she played for President and Mrs. Franklin Delano Roosevelt, and for Roosevelt's guests, King George VI and Queen Elizabeth, the president affectionately called her "Aunt Samantha."
All of us who grew up in the mountains love a good story. If one also has a talent for music, one has the two essentials necessary for an old Appalachian ballad. According to an article in The Sylva Herald and Ruralite newspaper in February 2001, by Rose Hooper, Aunt Samantha was known as the "Fiddling Ballad Woman of the Mountains." She knew how to take an old Appalachian story and weave a beautiful song out of it. The article goes on to explain that Samantha Bumgarner made history by being the first five-string banjo player ever recorded on wax. In 1924, she and Eva Davis of Sylva recorded "Cindy in the Meadows." According to the magazine "Country Music," this was the first record made by female Appalachian musicians.
This was the era when country music really found its groove in America. It started right here in the southern Appalachian Mountains. Its roots are from Southeastern American folk music and Western music. Roy Rogers, Gene Autry, and Sons of the Pioneers were also being heard. Early country music included many ballads and favorite shindig dance tunes. This form of music was most frequently accompanied by banjos, fiddles, guitars, mandolins and harmonicas.
The Mountain Dance and Folk Festival started in Asheville, N.C., in 1928. It has been going ever since and is the oldest continually running folk festival in the nation, having just finished its 84th year. Aunt Samantha Bumgarner was invited to perform there at the first festival in 1928 and was immediately a crowd favorite. She didn't miss a festival for more than 30 years. She finally had arthritis so badly, she simply could not perform.
Aunt Samantha Heard On Brinkley's Border Blaster
Although Samantha Bumgarner was a superb musician with a fiddle and a banjo, an adroit performer, and had performed for presidents, kings and queens, nothing made Aunt Samantha Bumgarner a household term like Dr. John R. Brinkley, another flamboyant personality from Jackson County. He was the quack doctor that became the richest doctor in the world for being the first to attack impotency in men by transplanting goat glands.
My mom, Grace Moody, and her three siblings were all born in the Brinkley cabin, where the quack doctor had been raised by his father and Aunt Sally before leaving the South and eventually moving to Milford, Kan. There he had his medical license revoked and his radio station closed.
Not to be outdone, Brinkley moved to Del Rio, Texas, and set up a border blaster radio station just over the border in Mexico. His Station, XERA, became the most powerful station in the world. Brinkley also oversaw a hospital in Del Rio, where licensed doctors could perform his goat gland transplants. Over his station XERA, Brinkley mixed advertising with entertainment. He advertised his cures and propelled many future stars forward in their careers. Roy Rogers, Gene Autry, Hank Williams, Tennessee Ernie Ford, Red Foley, the Carter Family, Harry Cagle and yes, Samantha Bumgarner, all became familiar personalities on Brinkley's powerful station. The single reason why these people with talent became such stars was because the radio station XERA could be heard even in Soviet Russia. The people in the United States without electricity, such as my grandmother Bonnie Baumgarner and her four children, could hear Aunt Samantha Bumgarner on the Saturday night Medical Question Box Show through their battery-powered radio, even when the battery was weak. Dr. Brinkley would advertise his cures for impotency, insanity, and irregularity, and then special, very special, entertainment would be heard over radios with the lowest batteries in the most mountainous areas. No one in the Carolinas could pick up entertainment with such clarity as station XERA, the Brinkley border blaster across from Del Rio, Texas.
I have spoken with relatives and interviewed people who knew Brinkley personally and had seen one or more of his luxurious Cadillacs (he owned 12). Brinkley drove one back to Mom's birth cabin and had the Jackson County Court in a document dated November 8, 1936, to ask my grandmother Bonnie Baumgarner to sell him back the cabin, in order to restore the cabin in honor of Brinkley. This is after he became famous and rich. I have that court document as a treasured family heirloom.
Brinkley had no doubt heard about "Aunt Samantha Bumgarner" being in the presence of royalty and American aristocracy. Brinkley, whom I call "The Ed Sullivan of Medicine," never missed out on a sure talent. He came back to Jackson County in the 1930s to get my grandmother's cabin, and asked Aunt Samantha to go back with him to Del Rio, Texas, and perform over XERA. Aunt Samantha (as are the modern-day Pickens YAM and POSAM programs) was always interested in teaching others to Preserve Our Southern Appalachian Music (POSAM). She was teaching the famous fiddler, Harry Cagle, and said she would go to Texas with Brinkley if Cagle could also come and perform.
Brinkley agreed, and Cagle recalled his ride in the huge Cadillac with golden hubcaps and capital Bs on each one. This was during the height of the Great Depression in America. The average annual income for a medical doctor was $3,500. Brinkley was making millions.
Aunt Samantha Bumgarner and her protégé Harry Cagle, who later started the legendary Appalachian band, "Harry Cagle and the Country Cousins," became regular performers on Brinkley's station. My grandmother Bonnie Baumgarner's family, all the neighbor Fugate boys, and other neighbors with no battery-powered radios would come to Bonnie's cabin in mountainous Jackson County on Saturday night to hear Aunt Samantha Bumgarner and Harry Cagle make their fiddles sing.
Young Appalachian Musicians of Pickens Co.
Whenever I see a little girl in Pickens County with a banjo or a fiddle, I think of Samantha Bumgarner. Whenever I see another grand accomplishment of our talented YAMs of Pickens County, I think of her. Without people such as Ms. Betty McDaniel, a teacher and librarian at Holly Springs Elementary, and people like Dan and Norma Hendricks, the talents of our YAM groups might still be lying beneath the surface, maybe never to be invited forth. These people imagined a program initially for 3rd through 8th grades taught by local musicians using fiddles, banjos, guitars and mandolins. There is now a charitable, non-profit group (POSAM) that sponsors an evening music program for 3rd graders through adults. POSAM is one more example of how foresight of these brilliant Pickens County musicians and visionaries has impacted our county and beyond.
Their dream was given a trial run in 2007, and the snowball has continued to roll and gain momentum. Talented instructors of Pickens County YAMs have included, to name a few, such talented Pickens County musicians as Ed Bolt, Dan'l Brazinski, Lewis Crowe, Gene Haney, Dan Hendricks, Steve McGaha, Don Noonan, Al Osteen, Jennifer Pepper, Herman Towles and Susan Ware-Snow. The programs now have instructors in Easley, Pickens, Clemson and Greenville. Grant money has been secured to put instruments in the hands of students. Our hats are off to these professionals with a vision for the future.
A person once said to Helen Keller, "I can think of nothing as bad as being both deaf and blind."
Helen Keller replied, "I can think of something worse — being sighted but having no vision!"
My heart is warmed when I see our Young Appalachian Musicians of Pickens County perform at events such as "Bluegrass Under the Stars" on the campus of Tri-County Technical College, at the Oconee Bell Festival held at Devil's Fork, at the Super Kidfest Competition at Hagood Mill, or the Young Appalachian Musicians' Winter Jubilee, which includes workshops, concerts, and contests.Wow! This is only scratching the surface of the impact of such a vision.
I recently attended and enjoyed immensely a concert by the Young Appalachian Musicians with their devil boxes in First Baptist Church of Easley. Dr. John Adams, the senior pastor there, and Rick Baumgarner, the minister of music, know something about vision, and how important it is to invite potential forward. They also know how incredibly important gospel bluegrass and Southern Appalachian folk hymns are in the history of Christendom in this area. Their "Bluegrass and Stained Glass" program was a most poignant and inspiring performance. I was touched emotionally as I sat, heard, and relived the sweet toe-tapping sounds of my childhood.
I personally salute these fabulous YAM and POSAM programs and how they invite these budding musicians to realize their human potential, join in the understanding and progress of civilization, and most of all, how these programs invite them to join in our celebration of their existence as Young Appalachian Musicians.
Aunt Samantha's Lasting Effect on American Music
Samantha never missed from 1928 to 1959 traveling to the Mountain Dance and Folk Festival in Asheville, in the month of August. Next month will be the 86th year of the festival. In 1936, Aunt Samantha was sitting in her big rocking chair at the festival, smiling broadly and plucking away on her five-string banjo, when a young Harvard student saw and heard her at her best. He was awestruck, captivated by her natural ballad talent, and how Samantha was so at ease with the mountain instruments; they seemed to be mere extensions of herself. Aunt Samantha inspired that young man to go forward with his own talent. That Harvard student's name was Pete Seeger, a name many will instantly recognize. In the 1960s, Seeger was promoting civil rights and popularized the old spiritual, "We Will Overcome" to become the civil rights anthem "We Shall Overcome." He co-authored "Where Have all the Flowers Gone?"(with Joe Hickerson), "If I Had a Hammer" (with Lee Hays), and he authored "Turn, Turn, Turn."
Aunt Samantha Bumgarner became an American icon, and played her instruments in many different venues. Her husband, Carse, died in 1941; they never had children. Aunt Samantha continued to make her living with her musical instruments after Carse died. She played in such places as Washington, New York, New Orleans, Chicago, St. Louis, and Liverpool, England. The Library of Congress houses many of Aunt Samantha's recordings. The rare 1924 78 rpm country recording that Aunt Samantha did with Eva Davis of Sylva is in the Country Music Hall of Fame and Museum in Nashville, Tenn.
The great North Carolina writer, John Parris, another Jackson County native, wrote about Aunt Samantha Bumgarner in his "Roaming the Mountains" newspaper columns in the Ashville Citizen-Times. Parris began his newspaper writing in the Jackson County seat, Sylva. The Parris Distinguished Professorship at Western Carolina University, just above Sylva, honors his work.
Aunt Samantha suffered from arthritis, rheumatism, and heart disease in her last years. The year of her death is important to me, and I will never forget it. My grandfather W.T. Cloer also spent much of his life in Jackson County. He and my grandmother Pearl Cloer were living on the Eastern Continental Divide on Highway 107 between Cashiers and Sylva in 1960. Water traveling toward Cashiers along Highway 107 from Papaw Cloer's house eventually went toward the Jocassee Gorges, Chattooga River, Savannah River, and the Atlantic Ocean. Water traveling toward Sylva entered the Tuckasegee, the Tennessee River tributaries, and eventually the Gulf of Mexico. Grandfather Cloer lived at the very upper end of the Tuckasegee Gorge on Highway 107. Aunt Samantha Bumgarner lived on the very lower end of the Tuckasegee Gorge on Highway 107.
I remember the sad day in 1960 when my Mom said, "Tom, your Papaw Cloer died today from a heart attack. We must go to Cashiers tonight after the sawmill whistle blows at five o'clock, and your dad gets free."
At the lower end of the Tuckasegee Gorge, Aunt Samantha Biddix Bumgarner succumbed to heart disease the same year on Christmas Eve, 1960. John Parris wrote Aunt Samantha Bumgarner's obituary. He also nominated her for the Western North Carolina Creative Arts Hall of Fame, where she was inducted posthumously. This lady from our Southern Appalachian Mountains was a ground-breaking, creative artist. She paved the way for YAM and POSAM. She especially paved the way for females in Appalachian music, and was an inspiration and teacher for many.
 Dr. Tom Cloer, Jr., is Professor Emeritus, Furman University, where he was recognized as the first Governor's Professor of the Year for South Carolina in 1988. Dr. Cloer is one of two professors at Furman to have won both the Meritorious Teaching Award and the Meritorious Advising Award in the institution's history. He graduated from Cumberland College in Kentucky, from Clemson University, and earned his Ph.D. at the University of South Carolina.