Bagwell set to enter SCAAA Hall of Fame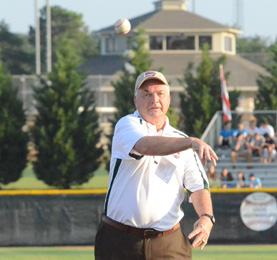 Kerry Gilstrap/Courier
Easley mayor Larry Bagwell throws out the ceremonial first pitch at the 2011 Big League World Series at the J.B. "Red" Owens Complex in Easley. Bagwell was recently announced as one of seven 2015 inductees into the South Carolina Athletic Administrators Association Hall of Fame.
By Ben Robinson
Staff Reporter
brobinson@thepccourier.com
EASLEY — Easley Mayor Larry Bagwell will be inducted into the South Carolina Athletic Administrators Association Hall of Fame next month.
Bagwell and six other honorees will be inducted in a ceremony March 15 at 1 p.m. at the Charleston Marriott.
The others selected for entry in this year's class are former Chapin athletic director Eddie Muldrow, former Carolina Forest athletic director Leroy "Boe" Rainbow, former Myrtle Beach athletic director Doug Shaw Sr., former Greenville County athletic director and SCAAA vendor coordinator Bill Utsey, SCAAA vendor coordinator Janey Utsey and former South Florence athletic director Michael Watts.
Bagwell, a former football coach and athletic director at Easley High School, began coaching the Green Wave in 1967 and led the team to the state AA title in his first year. He and the Green Wave returned to the state title game in 1972, winning with future NFL great Stanley Morgan on the team.
As athletic director, Bagwell had to stretch funds so all 16 sporting team at Easley were funded. Through careful budgeting, Bagwell was able to supply all teams with their needs.
"None of our sports went lacking," Bagwell remembered.
In fact, the athletic department sometimes made contribution to the entire school.
"One year, the lights in the school were so bad you couldn't halfway see where you were going," Bagwell said. "I spoke to the principal and said 'why don't we buy you some new lights,' and he was real excited. So we purchase lights for inside the school using athletic department money."
Bagwell spent 29 years at Easley High, serving as football coach and athletic director for 25 years. Currently in his second term as mayor, Bagwell is also a member of the South Carolina Coaches Hall of Fame and the Easley Rotary Club.
Bagwell said he is very honored to be selected for the administrators association hall of fame, especially since so many in the organization had similar experiences.
"They know and understand that supporting the kids was so important to the overall mission of the school," Bagwell said. "It is an honor any time you are recognized on the state level."