Baptist Easley named Gold Triple Threat hospital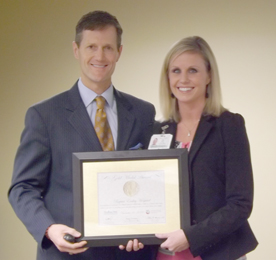 Working Well manager Jen Wright, right, presents Baptist Easley CEO Michael Batchelor with a Gold Medal Award on Jan. 15. The hospital is one of only nine hospitals in the state to be named a Gold Triple Threat.
EASLEY — Baptist Easley Hospital has been recognized as the newest Gold Medal hospital in South Carolina by Working Well, a collaboration between the South Carolina Hospital Association (SCHA) and Prevention Partners.
Since meeting and achieving the Gold Medal standard in December 2013, Baptist Easley has also been named the ninth Gold Triple Threat hospital in South Carolina. To earn the Gold Triple Threat designation, a hospital must reach the highest standard of excellence and earn Gold in all three pillars: Gold Star for tobacco-free people and places, Gold Apple for healthy food environments and Gold Medal for a culture where physical activity is the easy norm.
"I am excited that Baptist Easley has now received all three Gold awards and is one of fewer than 10 hospitals in S.C. to do so," Baptist Easley CEO Michael Batchelor said. "I am committed to healthy lifestyles, not only for our employees but for our community as well."
In order to meet the highest standard of excellence in creating a culture where being active is the norm, Baptist Easley implemented the four key components to a physically active worksite: policy, environment, education, and benefits & incentives. Baptist Easley's senior leadership passed a comprehensive culture of wellness policy to create a provide resources and necessary support to ensure such a culture where the healthy choice is the easy choice, is achieved. The resolution also states that Baptist Easley encourages employees to use their paid breaks for healthy activities.
To create a supportive environment for physical activity, Baptist Easley incorporates physical activity into every aspect of their comprehensive employee wellness program, encourages active breaks in their policy, communicates the policy and practice through strategically placed point of decision prompts, educates on the benefits of physical activity through a variety of communication channels, as well as providing opportunity through onsite classes and access to the Cardiac Rehab gym during non patient hours. They have successfully woven physical activity and wellness into the fabric of their corporate structure.
"Baptist Easley continues to display their dedication to population health improvement and community focus  by implementing environments and programs, supported by policy, that provide employees, patients, and community with easy access to the healthiest choice," Working Well manager Jen Wright said. "Baptist Easley has accomplished amazing things because of their motivated wellness team and supportive senior leadership.  Even more impressive is their willingness to share the lessons learned and successful strategies to lift up worksite wellness culture in hospitals and businesses throughout SC, as a Working Well Center of Excellence."
Wright presented leadership with the Gold Medal Award on Jan. 15.